Washington, Feb 2 (EFE).- The US Treasury on Thursday adjusted sanctions on selling technology goods to Russia, including expanding exemptions for the Federal Security Service (FSB), the former KGB spy agency, the entity tasked with authorizing licenses for importing technology.
The move was designed to ensure that US businesses in Russia can get import permits granted by the FSB intelligence agency for assorted US technology products, and the Donald Trump administration hastened to deny reports of any "easing" of sanctions on Russia.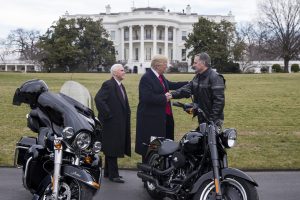 "I haven't eased anything," Trump said at a meeting with top executives of motorcycle manufacturer Harley-Davidson.
Last December, President Barack Obama's administration completely prohibited US transactions with the FSB in retaliation for Russian interference in the Nov. 8 election, as reported by US intelligence agencies.
But White House press secretary Sean Spicer on Thursday downplayed the Treasury's move saying "From what I understand, it's a fairly common practice for the Treasury Department, after sanctions are in place, to go back and look at whether or not there needs to be specific carve-outs for different industries or products or services."
The adjustment does not allow US firms to sell products to the FSB itself, but rather to other Russian companies and entities, as well as US firms and entities, but it is the FSB that authorizes such transactions inside Russia.
The announcement comes after Trump spoke with Russian president Vladimir Putin by phone on Saturday, a conversation touted as a first step toward improving bilateral relations between Washington and Moscow.
Despite having stated several times that he would consider withdrawing sanctions on Moscow if the Kremlin cooperates with Washington in various areas, Trump said last Friday at a joint press conference with visiting British Prime Minister Theresa May that the sanctions against Russia should continue.
The United States and the European Union initially imposed economic sanctions on Russia in 2014, and have increased them in phases, in response to Moscow's annexation of Crimea and its support for pro-Russian separatists in eastern Ukraine in that country's internal conflict.