New York, Feb 3 (EFE).- Joaquin "el Chapo" Guzman, who has pleaded not guilty in the United States to running a massive Mexico-based drug-trafficking operation, faces overly strict jail conditions, his attorneys argued Friday in a New York federal court.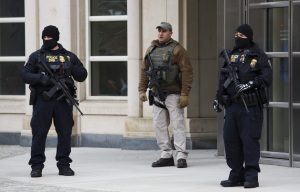 Lawyers for Guzman, who was dressed in a blue suit at the nearly hour-long hearing, also said there was a disconnect between the extradition request and the charges their client faces in the New York City borough of Brooklyn.
The reputed drug lord's wife, Emma Coronel, and his attorney in Mexico, Silvia Delgado, also attended the hearing.

El Chapo (Shorty) Guzman, whose arraignment took place on Jan. 20, a day after he was extradited from Mexico to the US, is being held mostly in solitary confinement at the Metropolitan Correctional Center in downtown Manhattan.

The lawyers told U.S. District Judge Brian Cogan that their client's wife had not been able to visit him and that Guzman was even denied a glass of water when they met with him.

But the judge responded that there was good reason why tight security conditions were in place for Guzman, who is notorious for twice breaking out of prison in his homeland.

The hearing was initially going to be held via videoconference because the security operation needed to transport Guzman to the courtroom creates major traffic problems, but the defendant eventually appeared in person after his attorneys objected.

Although Guzman was wanted in six US states, he is being prosecuted in a joint Miami-New York indictment in Brooklyn.

Guzman is being charged, among other things, with operating a continuing criminal enterprise – the Sinaloa drug cartel – from 1989 to 2014, prosecutors said last month.

That criminal organization rose to become one of the main sources of illicit drugs entering the United States.
Guzman, who has been described in varying accounts by the Mexican government as being born in either 1954 or 1957, amassed substantial wealth that led to his name regularly appearing on Forbes magazine's list of global billionaires.

The defendant faces a 17-count indictment and could be sentenced to life in prison if convicted, but in accordance with an agreement with the Mexican government he is not subject to the death penalty.