Santiago, Feb 4 (EFE).- The president of Chile said Saturday that the emergency of massive wildfires that have laid waste to vast stretches of central and southern Chile "is coming to an end."
President Michelle Bachelet said "the emergency is coming to an end," a message that won a collective sigh of relief among the thousands of Chileans threatened by the flames.
Nonetheless, the head of state noted that "this doesn't mean we can lower our guard, because we are still in the fire season that will last until April."
In that regard, Bachelet appointed Saturday a "national reconstruction director" to deal with the next stage after the disaster caused by the forest fires, a job assigned to Public Works Undersecretary Sergio Galilea.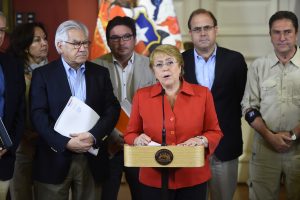 The president said that Galilea will devote himself exclusively to that task, which will be permanent.
"He will have enormous responsibilities and I'm sure he'll do well," the head of state said after meeting with some of her ministers and undersecretaries, who together outlined the steps to take after the tragedy that has left 11 dead and scorched close to 600,000 hectares (1.5 million acres) of land.
According to the latest report of the Onemi emergency management office, a department of the Interior Ministry, the fires left 11 dead, 6,370 affected and 1,603 homes destroyed.
The government said Friday that the forest fires' preliminary cost has reached 233 billion pesos (some $333 million), money invested chiefly in helping the thousands of people affected by the flames.
Finance Minister Rodrigo Valdes said the upcoming expenditures are basically divided in four parts, most of which will be to pay for the reconstruction of homes destroyed by the fires.
A total of 95 billion pesos ($28 million) will be used for that purpose.
The government said those expenses will be financed by diverting some $100 million dollars from its budget and the Social Economic Stabilization Fund (FEES).
The fires in Chile have been rated by experts as the seventh worst in the history of the world.