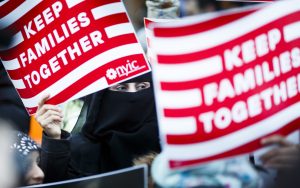 Washington DC, Feb 4 (EFE).- The United States government on Friday described a federal judge's temporary restraining order blocking enforcement of the president's immigration ban as outrageous and said it would appeal the decision.
The statement came after Judge James Robart issued the order blocking with immediate effect Donald Trump's controversial ban of immigrants from Iraq, Yemen, Iran, Somalia, Sudan, Syria and Libya.
"At the earliest possible time, the Department of Justice intends to file an emergency stay of this outrageous order and defends the executive order of the President," the White House said in a statement.
It added that the president has the responsibility and constitutional authority to protect the American citizens and that the order, passed a week ago, is intended to protect the homeland.
Robart's ruling will remain in effect until a definitive decision is taken on the legality of the presidential order or until a higher court decides to lift the restraining order.
Trump reacted to the judicial decision with the tweet: "We must keep 'evil' out of our country!"
Trump's executive order stipulates a temporary pause in admission of refugees, a 90-day prohibition on entry of residents from the seven Muslim-majority nations, and an indefinite suspension on the admission of Syrian refugees.