MAKING A RECOMMENDATION TO RENAME THE NEW SAN JOSE CONVENTION CENTER
March 12, 1991
By Yolanda Reynolds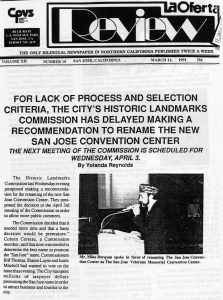 The Historic Landmarks Commission last Wednesday evening postponed making a recommendation for the renaming of the new San Jose Convention Center. They postponed the decision to the April 3rd meeting of the Commission in order to allow more public comment.
The Commission decided that it needed more time and that a hasty decision would be premature." Coleen Cortese, a Commission member, mid that time was needed to determine the best name to promote the "San Jose" name. Commissioners Bill Thomas, Sharon Layne and Justin Mitchell had wanted to vote on the issue that evening. The City has spent millions of taxpayer dollars promoting the San Jose name in order to attract business and tourists to the City.
The Commission Chairman, Franklin Maggi announced that they had each received five letters suggesting names for the new Convention Center. One letter was from Michael Fox, a local beer distributor (Budweiser), suggesting the name of recently retired San Jose mayor, Thomas McEnery. Another was from Joe Graham suggesting the name of the noted writer, educator and intellectual, Dr. Ernesto Galarza. A letter from Colonel Alvarez of the Veterans of Foreign Wars suggested the name, "San Jose Memorial Convention Center," in honor of US. military veterans. Of all the letters that the Commission received, only one recommended the former mayor.
The evening's hearings went on for many hours. Supporters of the naming of the Convention Center for the former mayor cited his accomplishments in downtown San Jose in justifying him for such honor. One speaker, remarking on the redevelopment of downtown — which she attributed to the former mayor, said that Redevelopment had created a great improvement over the drug dealing and numbers of vagrants that she heard had prevailed there.
Interestingly, PACT (People Acting In Community Together) had a meeting that same evening, Wednesday night, with the downtown City Council representative, David Pandori, to discuss drug dealing and drinking problems frequently witnessed at a number of downtown neighborhood parks.
Pandori, in his campaign for District 3 City Council seat, the downtown district, promised those voters that he would work towards the creation of a model urban parks ranger program and to establish "Project Crackdown" in the district to help address the community's concerns.
PACT had asked for a park monitoring program as away to deter drug dealing and drinking in the parks in order to make those parts usable and safe for use by downtown families. "Project Crackdown" is now established in that area of District 3.
Wednesday evening, Pandori reassured PACT that he was working with the new mayor on his promise and that, at this time, money had been found for one park ranger. He has promised that he is working very hard to find more money so that at least two park rangers would be hired to monitor the downtown parks.
There are those who point to the "redevelopment" of downtown as sufficient reason to honor the former mayor. Others feel, that such immediate recognition is premature. More importantly they say, is the task of clear guidelines and criteria funded projects, particularly when more than one name is submitted.
The current City Ordinance regarding the naming of public property, adopted because of a major controversy over the naming of the San Jose Performing Arts Center in the early 70's, states that names of individuals are to be considered only when "LAND OR MONEY FOR ITS PURCHASE HAD BEEN DONATED BY THEM or otherwise warranted by some contribution or service which is deemed to be of significance."
Carlos Ramirez reminded the Commission that the former mayor did not merit special recognition for "doing what he was paid to do."
Mike Borquez, a veteran, spoke on behalf of the proposal for naming the Convention Center in honor of veterans. He said that the City decision makers were "rushing to fast."
Leonard Ramirez. Chairman of the Hispanic Development Corporation, advised the Commission that should they make a decision that evening the Commission would be setting policy that could create major problems later when this same Commission would be asked to name other projects.
Ramirez advised them to consider the significance of their actions. He told them that two important issues had to be resolved before proceeding. Whether recognition was to be made for volunteer work or salaried work and whether it was advisable to name prominent public projects after people who are alive or to wait until after they are dead.
As an example the naming of municipal sites from pride after living people can prove to be very embarrassing. Reports from Cincinnati, Ohio are that many people are very unhappy to have a major thoroughfare named after Pete Rose, a baseball player who has so discredited baseball because of drug abuse and illegal betting that his name is banned forever from inclusion in the Baseball Hall of Fame. Rose has served time in prison for his offensive behavior.
Others contend that commemorating the living by naming publically funded projects after them "is to wish bad luck to that person" which, at most, "could result in their untimely death "or at the least, to "impair their judgment." Old timers say, "You don't name things after the living to do otherwise is too risky – only after a person dies is it safe to so honor people – after they are dead they cannot be a cause of embarrassment."
San Jose State professor Jose Villa spoke against naming the Convention Center after Dr. Galarza, stating that to do so would bring dishonor to his name. Villa felt the Convention Center was inappropriate because the Center was conceived for the purpose of "making money," whereas Dr. Galarza dedicated his life to education, writing and working in the Farm Workers movement along with Cesar Chavez. Villa said that a building dedicated to education would be an appropriate honor instead.
Some veterans are skeptical about the chances of naming the Convention Center in honor of the veterans – not that they oppose it. Jack Licursi, a leader of a group of veterans says that McCabe Hall was promised to be named in honor of the veterans 72 years ago. Those who remember that failed promise have since turned their attention to finding another way to honor the veterans.
Kathy Chavez Napoli, who spoke that evening, reminded the Commission of the divisiveness that the Fallon statue created for lack of process and public discussion. She also spoke to the need for official and lasting honor for the thousands of veterans from this city who have served their country. She said that there have been 62 different administrations during 214 years of government and there is yet to be a monument or special commemoration for San Jose veterans. Napoli says, "if not now – when?
One speaker said "for the good of San Jose, Tom McEnery, who is known to be so dedicated to the promotion of the name San Jose, should modestly decline this honor."
The next meeting of the Historic Landmarks Commission is scheduled for 7:00 p.m. April 3 at the San Jose City Council Chambers located at the San Jose City Hall at 801 North First Street.
If you want more information, you may contact Leonard Ramirez at 280-5111 or Hank Rosendin at 270-9190.