Lima, Feb 6 (EFE).- The Peruvian Attorney General's Office on Monday officially announced the launching of a criminal investigation against former President Alejandro Toledo on charges of influence peddling, money laundering and bribetaking to benefit Brazil's Odebrecht construction firm.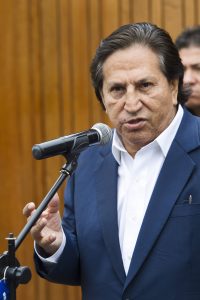 In a message posted on the Public Ministry's official Twitter account, authorities said that the investigation would also include Jorge Barata, the former director of Odebrecht in Peru, and Josef Maiman, a businessman friend of Toledo tapped to act as a front man for the president, who governed from 2001-2006.
According to the AG's statement, Barata will be subjected to a preliminary investigation "as a primary accomplice to the crime of securities laundering" and Maiman as the "author" of the case.

After the AG's announcement, a judge will now have to hold a hearing on the matter within 48 hours and determine what steps will be taken regarding the former president and the others accused in the case, and these measures could include international search and capture orders, given that Toledo is out of the country.

Toledo is the first major Peruvian political figure to be indicted in the Odebrecht bribery case, which gained momentum over the past week when the Peruvian press leaked information saying that Barata had confirmed to Brazilian and Peruvian prosecutors that Toledo received $20 million in bribes in exchange for handing the project to build the Interoceanic Highway to the Brazilian firm.

On Saturday, police raided the luxury home Toledo bought in Lima after leaving office and removed assorted documents.

Since the leaks became public, Toledo, who is currently in France with his wife Eliane Karp, has categorically denied receiving money from the construction company, calling such a claim persecution by his "enemies" and adding that Barata "lied" in his testimony to prosecutors.

Odebrecht admitted – in an agreement signed by the firm with the US Department of Justice – paying $29 million in bribes to Peruvian officials between 2005 and 2014, during which time Toledo, Alan Garcia (2006-2011) and Ollanta Humala (2011-2016) governed the country.