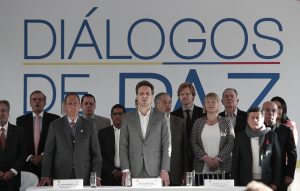 Quito, Feb 7 (EFE).- The Colombian government and the National Liberation Army (ELN) guerrillas met Tuesday in this capital to open an historic peace process seeking to put an end to the armed conflict in which the two parties have been mired for more than 52 years.
The act launching the Public Dialogue Meetings for Peace in Colombia took place at the Cashapamba ranch on the outskirts of Quito presided over the Ecuadorian Foreign Minister Guillaume Long and including Colombian government negotiator Juan Camilo Restrepo and ELN negotiator Pablo Beltran.
Restrepo urged the ELN to renounce kidnapping because "it will be very difficult to move forward" with the dialogue process if the rebels do not do so.
"Colombia, the international community … and the families of those who remain kidnapped by the ELN hope for this announcement very soon," said Restrepo, who also emphasized that "the rights of the victims are at the center of these talks," adding that "truth, justice, reparations and the guarantee of non-repetition are the deep and real roots of reconciliation.
He also urged "promoting an active citizenry that contributes to decision-making and the exercise of political control," mentioning the Colombian provinces of Arauca, Norte de Santander, Cauca and Choco, and emphasizing the benefits these zones could derive from "democratic deliberation on problems such as education, poverty, social exclusion, corruption and environmental degradation," which form part of the agenda for the talks.
Meanwhile, the ELN's Beltran urged the achievement of a series of "successive agreements," adding that it will be necessary for both parties to demonstrate the willingness to make changes in their thinking and behavior.