SHARES HIS CONCERNS AND SEEKS THEIR ADVICE
March 29, 1991
By Yolanda Reynolds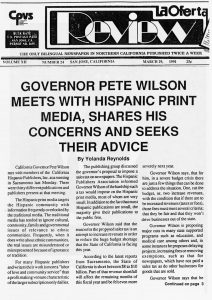 California Governor Pete Wilson met with members of the California Hispanic Publishers. Inc. at a meeting in Sacramento last Monday. There were thirty different publications and publishers present at that meeting.
The Hispanic print media targets the Hispanic community with information frequently over looked by the traditional media. The traditional media has tended to ignore cultural community family and governmental issues of relevance to ethnic communities. Frequently, when it does write about ethnic communities, the real issues are misunderstood or misrepresented because of ignorance or tradition.
For many Hispanic publishers and writers their work is more a "labor of love and community service" than a profit making venture characteristic of the larger subscription only dailies.
The publishing group discussed the governor's proposal to impose a sales tax on newspapers. The Hispanic Publishers Association informed Governor Wilson of the hardship such a tax would impose on the Hispanic print media, most of whom are very small. In addition to the fact that most Hispanic publications are small, the majority give publications to the public free.
Governor Wilson said that the reason for the proposed sales tax is an attempt to increase revenue in order to reduce the huge budget shortage that the State of California is facing this year.
According to the latest reports from Sacramento, the State of California is short between $8 to $10 billion. Part of that revenue shortfall will affect the remaining months of this fiscal year and be felt even more severely next year.
Governor Wilson says, that for him, in a severe budget crisis there are just a few things that can be done to address the situation. One, out the budget, or, two increase revenues, with the condition that if there are to be increased revenues (taxes or fees), those fees must meet several criteria; that they be fair and that they won't drive businesses out of the state.
Governor Wilson is proposing major cuts in many state supported programs such as education, and medical care among others and, in some instances he proposes delaying projects. increasing fees or removing exemptions. such as that for newspapers, which have not paid a sales tax as do other businesses for goods that are sold.
Governor Wilson says that he has plans to keep his campaign pledge to increase support for prenatal care. Wilson says the State and its citizens pay a high price for not providing prenatal care for pregnant mothers. He says that it is the working poor mothers (of whom there are many) who cannot afford such care. Medi Cal is not available for people who have low paying jobs. Many of the working poor do not receive health benefits nor can they afford to pay for health insurance.
Governor Wilson appealed to the Publishers Association for help and advice in his attempt to; "reform education to help reduce the numbers of youth who do not graduate from high school and to help keep California competitive in a highly competitive global economy."
Governor Wilson says that he is especially disturbed when he beats that a company like Pacific Bell reports that 68% percent of its job applicants who have finished high school, read at the 7th and 8th grade level. Such a reading level is not adequate to perform the work at Pacific Bell and those applicants are therefore unemployable.
Graduation from high school should indicate that the graduate can read at least at the tenth grade level, after 12 years of schooling.
With so many young people performing so poorly in reading and math, those with poor basic skills cannot compete in at job market, that requires ever higher levels of ability in both areas. The poor reading and math skills of many youth and young adults results in great numbers who are unemployable, or forever relegated to very poorly paid jobs. As more people compete for the few low skill level jobs available, salaries become even lower and working conditions even worse.
The Governor is very concerned about poverty and the increasing numbers of youth who go to school hungry. Increasingly, children are coming from homes where the head of the household is a very young, unemployed female. In recent years, the number of teenagers who become pregnant has greatly increased. Today, 53% of the Welfare budget goes to women who first gave birth in their teens.
Governor Wilson pointedly remarked that unlike his predecessor, his administration encourages and supports family planning and sex education.
Wilson expressed abhorrence for the emerging bifurcated social system in the state and feels that a good educational system is necessary to reverse this trend. To do that, he feels that the educational system has to become far more effective.
Wilson plans to expand Head Start. Head Start an early childhood education program, was promoted by former President Johnson and his "War of Poverty." Head Start proved to be very effective. Children who were enrolled in Head Start programs performed far better in school than those who did not have that opportunity.
Indeed, the State's neglect of it's children has resulted in alarming conditions, not only for those children who are disadvantaged and neglected, but for the well being of all who live in this state.
According to a Sacramento Bee reporter, Amy Chance, a group, "Children Now," says that the State of California merits a grade of "D" for the states treatment of its children.
The author says that this grade was determined after the group measured "27 indicators of children from per pupil school spending to the number of youngsters behind bars.
Some of the grim statistics they gathered indicate that more than half of California's 2 year olds are not fully immunized, a sign to Children. Now that signals probably "those children may not get other kinds of regular care (either)." In addition, other studies indicate that California's teen pregnancy rate is the highest in the nation.
According to a study conducted by the Strategic Vision Committee in Santa Clara County since 1982-83, the reports of suspected child abuse had gone from 2.8 per 1,000 population to 17.3. an increase of 967%. This abuse is credited largely to physical abuse, sexual abuse, general neglect and caretaker absence or incapacity. 50% of these children were placed under the protection of the court.
The Strategic Vision Committee was chaired by Santa Clara County Board of Supervisors members, Zoe Lofgren and Susanne Wilson, and,since Wilson's retirement, Dianne McKenna.
With regard to health, the number of children in Santa Clara Valley who do not receive physical and dental care is estimated to be as much as 60% of those from families identified as "poor." These youngsters do not qualify for Medi-Cal. According to this report "Alternative Futures: Trends and Choices," added to the problems of poverty, "fewer pediatricians are willing to take new Medi-Cal patients because of the paper work involved and low reimbursement rates for providing such care. They say that in 1989 only 40 out of 169 pediatricians and 70 of the 1,400 dentists would accept new Medi—Cal patients.
According to this County report, mental health needs increase greatly for families and persons at the lower end of the economic spectrum. with less education, from broken homes, and members of economically disadvantaged ethnic groups.
Though Hispanics have made some inroads into Administrative and Professional employment categories by 1980 they represented only 13% (approximately) of that workforce. Most Hispanics (80%) in 1980 were employed in the lower paying service, farming or operative and production categories of work. The new 1990 census figures on employment have not yet been released.
Many community leaders feel that there is no simple solution for creating a healthy, vibrant State wherein its wealth and opportunities are not restricted to a select group of people. It well may be, as Governor Wilson suggests, a time to take a hard look at many of the traditional ways in which services have been provided.
The Center For Employment Training, CET, is non traditional but extremely successful in job training. There is a need for more such programs.
Some have suggested that, in addition, there should be a national youth program where the young, after successfully completing the tenth grade, could work for pay, room and board under supervision in rural or urban settings for a specified time, providing services such as tutoring younger children, working at state or city parks. assisting the elderly who live at home alone and assisting in the providing of child care, among other services.
They suggest that the Community College system would continue to exist, but primarily for academic instruction, and would accept those eleventh and twelfth grade secondary (high school) students who prefer to continue their academic studies. High School would end at the tenth grade.
The State of California is facing a crossroads. How it addresses its future needs will determine the quality of life that its citizens will enjoy. The solutions that policy leaders arrive at must come from everyone, so that the best is adopted. Too much is at stake to leave the decisions for a select few to make.
If you have any ideas on these matters, contact members of the California legislature or Governor Petr Wilson. © La Oferta Newspaper.