Lima, Feb 10 (EFE).- Peruvian authorities on Friday placed a former president on the country's most-wanted list and offered a 100,000-soles ($30,000) reward for information leading to his whereabouts and capture.

The announcement by the interior minister came after a judge on Thursday night issued an international arrest warrant for Alejandro Toledo on charges of money laundering and influence trafficking and said evidence presented thus far in the case warranted he be jailed for up to 18 months while prosecutors conduct their investigation.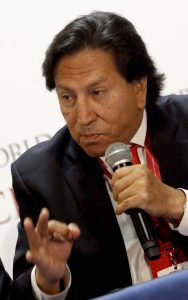 Toledo is believed to be in France and has shown no indication he plans to return to Peru since last Friday, when several media outlets reported that executives from Brazilian construction giant Odebrecht confessed to paying him $20 million in bribes to secure lucrative contracts.

Interior Minister Carlos Basombrio said Peru had already sent a red alert to Interpol France and that the request for Toledo's arrest was currently being evaluated.

Judge Richard Concepcion found sufficient evidence that Odebrecht secured a contract to build a highway linking southern Peru with western Brazil after paying bribes to Toledo and that those payments were deposited in the accounts of offshore companies to conceal the illegal activity.

"He's not an ordinary citizen. He was the president and he allegedly used the highest office to carry out all these corrupt acts to enrich himself illegally," Concepcion said.
Toledo, a visiting scholar at Stanford University in California, is the first major Peruvian political figure to be implicated in the Odebrecht case.

Dozens of executives from that Salvador, Brazil-based company, accused of systematically paying bribes to secure inflated contracts from Brazilian state-controlled oil giant Petrobras and funneling some of the extra money to politicians, have agreed to plea deals that – once unsealed – are expected to further rock that nation's political class.

In late December, Odebrecht and Sao Paulo-based petrochemical unit Braskem reached a massive settlement with authorities in the United States, Brazil and Switzerland.

The two companies, which admitted to operating schemes for more than a decade that involved paying hundreds of millions of dollars in bribes to government officials around the world to win business, agreed to pay a combined total penalty of at least $3.5 billion to resolve the charges.

As part of the settlement, Odebrecht acknowledged paying $29 million in bribes to public officials in Peru between 2005 and 2014.

That period spans the presidencies of Toledo, who governed from 2001 to 2006; Alan Garcia, in office from 2006 to 2011; and Ollanta Humala, in power from 2011 to 2016.