COUNCIL MAY  HONOR VETERANS, A WOMAN, FORMER MAYOR TOM McENERY OR LEAVE NAME AS IS, "SAN JOSE'
April 16, 1991
By Yolanda Reynolds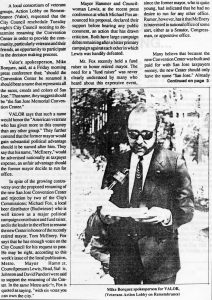 A local consortium of veterans groups, Action Lobby on Remembrance (Valor), requested that the City Council reschedule Tuesday night's City Council meeting to determine renaming the Convention Center in order to provide the community, particularly veterans and their friends. an opportunity to participate in the decision making process.
Valor's spokesperson, Mike Borquez, said, at a Friday morning press conference that: "should the Convention Center be renamed it should bear a name that represents all the races, creeds and colors of San Jose. "That name, they suggest should be "the San Jose Memorial Convention Center."
Valor says that such name would honor the "American veterans who has given more to this country than any other group." They further content that the former mayor would gain substantial political advantage should it be name after him. They say that his name, McEnery," would be advertised nationally at taxpayer expense, un unfair advantage should the former mayor decide to run for office.
In spite of the growing controversy over the proposed renaming of the new San Jose Convention Center and rejection by two of the City's Commissions; Michael Fox, a local beer distributor (Budwieser) who is well known as a major political campaign contributor and fundraiser, and is the leader in the effort to rename the new center in honor of the recently retired mayor, Tom McEnery. Fox says that he has enough votes on the City Council for his request to pass. He may be right. according to this week's issue of the local publication, Metro. Mayor Hammer, and Councilpersons Lewis, Head, Stabie, Johnson and David Pandori were said to support the renaming of the Center. In the same Metro article, Fox is quote as saying, "with six votes you can own the city."
Mayor Hammer and Councilwoman Lewis. at the recent press conference at which Michael Fox announced his proposal, declared their support before hearing any public comment, an action that has drawn criticism. Both have large campaign debts remaining after a bitter primary campaign against each other in which Lewis was handily defeated.
Mr. Fox recently held a fund raiser to honor retired mayor. The need for a "fund raiser" was never clearly understood by many who heard about this expensive event, since the former mayor who is young, had indicated that he had no desire to run for my other office. Rumor, however, has it that McEnery is interested in national office of some sort, either as a Senator, Congressman, or appointive office.
Many believe that because the new Convention Center was built and paid for with San Jose taxpayers money, the new Center should only have the name "San Jose." Already many thousands, if not millions, have been spent to advertise the "San Jose" in the United States and a broad. To lose the publicity advantage of the Convention Center name would be a serious blow to the campaign to make the world aware of San Jose. Further the name change itself would be very expensive _ signs to be changed, new stationary adopted etc. (at San Jose Airport, title changes for signs cost hundreds of thousands of dollars when the name 'International' was added.)
Normally public properties are not named to honor the living unless that person or persons paid for the property themselves and then donated It to the public. Other citizens, many of whom have fond feelings of appreciation for a number of former mayors question the fairness of selecting one mayor to honor over all of the rest. Other mayors, all living, whose names have been mentioned are Emic Renzel, Al Ruffo, George Starbird, Congressman Norm Mineta, and Janet Gray Hayes.
These citizens say that each mayor, their administrations, different city councils, and citizens of the City have all contributed to San Jose. Today's San Jose is a culmination of a number of events that made the City's present condition a reality.
For these reasons and others, both the City's Human Rights Commission and the Historic Landmarks Commission recommended against renaming the Convention Center after the former mayor. The Historic Landmarks Commission is a body of individuals officially appointed by the City to advice the City Council on matters of historical significance and (by Ordinance) to advise on such matters as the naming of public owned properties.
The Historic Landmarks Commission, in a 6 to 3 vote, agreed that honoring the former mayor in such a manner was "premature and inappropriate."
The current mayor, Susan Hammer has gone on record to that in her administration a major effort will be made to bring all segments of the community into the decision making process. To this end, she has established "Project Diversity." The Mayor has also promised to address a number of neighborhood concerns namely gangs, drug abuse and a need for youth programs.
How the City decides to spend its scarce resources and honor its' commitment to the Commissions that it has empowered to advise it, will be evident with their Tuesday night decision.
The chair of the Landmarks Commission said, that Tom McEnery was a very young man and that he had plenty of time to work within the community as a private citizen and thereby earn such respect.
For veterans, their families and friends the Council's rebuff indicates that their participation in the process is neither welcome not desired. Soldiers are told that they go to war to protect "democracy." Such it rebuff challenges the cause for which they served their country.
The City is facing serious at $19 to $24 million short fall next year and a name change would be costly. Most citizens feel that a name change memorializing the veterans is the only change worthy of such an expense and honor – if any change is to be made.
Persons wishing more information may contact VALOR at 246- 4200.
The San Jose City Council meeting to determine the name change for the new San Jose Convention Center is scheduled for 7:00 p.m. The meeting will take place in the City Council Chambers in City Hall at 801 North First Street Tuesday, April 16. © La Oferta Newspaper.