HOUSING, AND GOVERNMENTAL POLICIES
May 3, 1991
By Yolanda Reynolds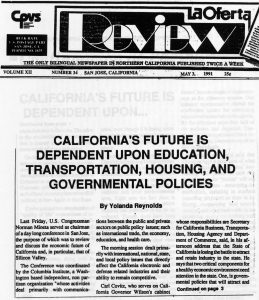 Last Friday, U.S. Congressman Norman Mineta served as chairman of a daylong conference in San Jose, the purpose of which was to review and discuss the economic future of California and, in particular that of Silicon Valley.
The Conference was coordinated by the Columbia Institute, a Washington based independent organization "whose activities deal primarily with communications between the public and private sectors on public policy issues; such as international trade, the economy, education, and health care.
The morning session dealt primarily with international, national, state, and local policy issues that directly affect the California electronic and defense related industries and their ability to remain competitive.
Carl Covitz, who serves on California Governor Wilson's cabinet whose responsibilities are Secretary for California Business, Transportation, Housing Agency and Department of Commerce, said, in his afternoon address that the State of California is losing the battle to attract and retain industry to the state. He says that two critical components for a healthy economic environment need attention in the state. One, is governmental policies that will attract and retain industry in the state. The other is the availability of the workforce that is trained to meet the employment needs of those industries.
Covitz says that he believes that industry is leaving because of excessive regulation and control. He cited the expansion of Apple Computer in Colorado as an example, the state of Colorado quickly processed permits and offered monetary incentives ($19 million) to lure Apple to that State.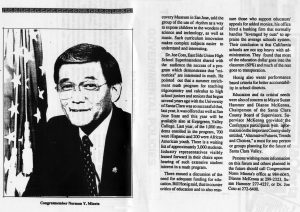 Covitz pointed to a deterioration of "quality of life" expectations of industry and its employees with respect to for availability of housing, particularly affordable housing, traffic congestion, and excessive regulation.
Covitz suggests that more compromise is necessary, along with increased cooperation between and among competing interests. He says that frequently policy decisions are made with very little understanding of the consequences of those decisions.
Covitz says that, in spite of problems, California will continue to grow, even though it is losing some important elements such as aero space engineers and some electronic companies.
Gary Burke, President of the Santa Clara Manufacturing Group says that the County needs a master plan for addressing its future. Burke says that there is a need for a better understanding to the implications involved in national and local environmental laws. Right now the Bay Area is faced with a "severe" rating which requires that pollutants in the air be reduced. Though there have been significant improvements in the Bay Area since air quality standards were first enacted in 1970, the Bay Area continues to experience days when air quality violations of carbon monoxide and ozone standards are considered "unhealthy." The government has already extended its compliance deadlines three times. By law, new "Clean Air Plans" are due for government review by June 30 1991. Industry is fearful that stringent enforcement of the law will further depress the local economy.
Education, its successes or lack thereof, became a topic of major concern at the afternoon session. One industry representative chided the conference leaders for scheduling educational issues last on the agenda. By the afternoon more than half of the audience had departed. Congressman Mineta promised that a future conference, educational would be first on the agenda.
Superintendent Honig said that educators have a good idea of what makes education work and how learning takes place. He says that simply calling for "choice" will not improve education – revamping the curriculum, investing in teachers (retooling personnel as done in industry), reorganizing how schools are used, and using team work – in the classroom, among the teaching staff and between schools, parents and industry – these are the elements that will improve education.
Honig says that many schools are ready to improve the curriculum and make changes that will improve learning but that there is not sufficient money available for this happen on big scale. He says that currently there is a small grant available for schools that wish to improve but that there are thousands more applicants than there are grants available.
Sally Osberg, of the Children's Discovery Museum in San Jose, told the group of the use of rhythm as a way to expose children to the wonders of science and technology, as well as music. Such curriculum innovation makes complex subjects easier to understand and interesting.
Dr. Joe Coto, East Side Union High School Superintendent shared with the audience the success of a program which demonstrates that "minorities" are interested in math. He pointed out that a summer enrichment math program for teaching trigonometry and calculus to high school juniors and seniors that began several years ago with the University of Santa Clara was so successful that, last year, it was offered as well at San Jose State and this year will be available also at Evergreen Valley College. Last year, of the 1,000 students enrolled in the program, 700 were Hispanic and 200 were African American youth. There is a waiting list of approximately 3,000 students. Industry representatives visibly leaned forward in their chairs upon hearing of such extensive student interest in a math program.
There ensued a discussion for the need for adequate funding for education. Bill Honig said, that to counter critics of education and to also reassure those who support educators appeals for added monies, his office hired a banking firm that normally handles "leveraged by outs" to appraise the average schools system. Their conclusion is that California schools are not top heavy with administration. They found that most of the education dollar goes into the classroom (60%) and much of the rest goes to transportation.
Honig also wants performance based criteria for better accountability in school districts.
Education and its critical needs were also of concern to Mayor Susan Hammer and Dianne McKenna, Chairperson of the Santa Clara County Board of Supervisors. Supervisor McKenna provided the Conference participants with information on the important County study entitled, "Alternative Futures, Trends and Choices," a must for any person or groups planning for the future of Santa Clara Valley.
Persons wishing more information on this forum and others planned in the future should call Congressman Norm Mineta's office at 984-6045, Dianne McKenna at 299-2323, Susan Hammer 277-4237, or Dr. Joe Coto at 272-6400. © La Oferta Newspaper.