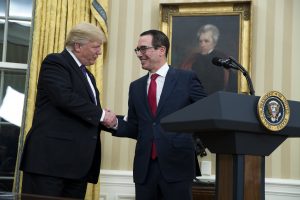 Washington, Feb 13 (EFE).- The US Senate on Monday confirmed multimillionaire hedge fund manager Steve Mnuchin as President Donald Trump's new Treasury secretary, a post in which he will make tax reform – in particular, lower taxes – a priority.
The 53-47 vote was taken in the Senate Monday evening, with no Republicans voting against the confirmation.
Sen. Joe Manchin of West Virginia was the only Democrat to vote for Mnuchin, and was also the only lawmaker of his party to vote for Attorney General Jeff Sessions' confirmation.
Democrats had claimed that Mnuchin, an ex-banker, ran a "foreclosure machine" when he was head of OneWest Bank, making a significant part of his large fortune by foreclosing on families during the financial crisis.
President Donald Trump's Treasury pick had told senators during his confirmation hearings, in contrast to Democrats' assertions, that during the financial crisis he helped homeowners secure refinancing so that they would not be foreclosed upon.
GOP supporters of Mnuchin – who is also a former top exec at Goldman Sachs – said that he is eminently qualified to run the Treasury Department.
Mnuchin had failed to disclose some $100 million in assets, most of them real estate, and a number of offshore entities in his initial financial disclosures, but he corrected the error just before the start of his confirmation hearing.