May 10, 1991
By Yolanda Reynolds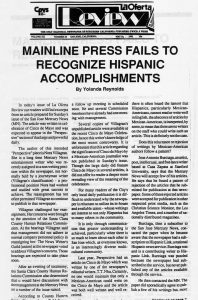 In today's issue of La Oferta Review our readers will find excerpts from an article prepared for Sunday's issue of the San Jose Mercury News (MN). The article was written in celebration of Cinco de Mayo and was expected to appear in the "Perspective" section of that large and powerful daily.
The author of this intended "Perspective" piece is Nara Villagran. She is a long time Mercury News entertainment writer who was recently assigned to a non writing position within the newspaper, normally held by a journeyman writer (Villagran's classification) – a professional position Nora had worked and studied with great success to achieve. The reassignment has not often permitted Villagranto continue to publish in that newspaper.
Villagran challenged her reassignment. Her concerns were brought to the attention of the Santa Clara County Human Relations Commission. At the hearings Villagran said that management did not adhere to normal company personnel policy in reassigning her. The News Writers Guild (union) at the newspaper voted to address Villagran's concerns. Those hearings are expected to take place soon.
After an evening of testimony, the Santa Clara County Human Relations Commission also determined that It would have discussions with the management at the Mercury News on a number of the issue raised.
According to County Human Rights Director, James T. McEntee, a follow up meeting is scheduled soon. He and several Commission members have already had one meeting with management.
Several copies of Villagran's unpublished article were available at the recent Cinco de Mayo Celebration, hence this writer's knowledge of the most recent controversy. It is unfortunate that this article regarding the significance of Cinco de Mayo by a Mexican-American journalist was not published in Sunday's issue. Though the large daily did feature Cinco de Mayo in several articles. It did not offer its reader a deeper more revealing view of the meaning of the celebration.
For many readers of the City's only local daily publication it is difficult to understand why the newspaper is reluctant to utilize in in-house and available talent – whose writings are interest to not only Hispanics but to many others in the community.
It is only through communication that greater understanding is achieved. particularly when there is so much to learn about each other in San Jose which, as everyone knows, is an interestingly diverse multi-cultural community.
Last year, Perspective had an article on Cinco de Mayo which was written by one of the newspaper's editorial writers, T. T. Nhu. Certainly, no one would maintain that only a Mexican-American could write on the Cinco de Mayo and the article was both well written and well received.
However, in a community where there is often hard the lament that Hispanics, particularly Mexican-Americans, cannot read or write well in English, the absence of articles by Mexican-American, is interpreted, by some, to mean that there are no writers on the staff who could write such an article This is definitely not the case.
Does this reluctance or rejection of writings by Mexican-American authors follow a pattern?
Jose Antonio Burciaga, an artist, poet, intellectual, and freelance writer based at Casa Zapata at Stanford University, says that the Mercury News will accept few of his articles. He says that he found a pattern of rejection of the articles that he submitted for publication at that newspaper. Some of these rejected articles were accepted for publication in other respected print media, such as the Christian Science Monitor, the Los Angeles 'Times, and a number of nationally distributed magazines.
Burciaga, then a subscriber to the San Jose Mercury News, contacted the paper when he became aware that the newspaper had a subscription to Hispanic Link, a national Hispanic news service. Burciaga was puzzled because the newspaper had subscribed to the service, but never published any of the articles available through the service.
He then contacted the MN. The paper did sporadically agree to publish a few of his writings but, more often than not, rejected his articles. After a while Burciaga began to feel that the rejections fell into a pattern. At the same time. Burciaga learned from a MN editor that she was very frustrated over her attempts to publish his writings. She said that though she had approved Burciaga's articles for publication. it was only her relentless attention that assured their publication.
Burciaga says that over the years the Hispanic community has questioned the lack of Hispanic editorial personnel at that paper. Many community leaders, including this writer, have had meetings with MN management to discuss the dearth of Hispanic writers working for that paper and for the manner in which the newspaper covers, or fails to cover, issues of importance to the Hispanic community.
Burciaga says that several years ago, a published author and attorney, (one of the few Mexican-American writers ever offered a position on the editorial staff at the newspaper) was told that he would assume editorial duties only after working as a beat reporter for at least one year. The accomplished author refused the offer.
Recently, the newspaper hired a new writer for its editorial bond. Joseph Rodriguez. He has written a few articles and editorials for the newspaper. The turnover at the newspaper has been high in recent years. Hopefully Rodriguez will find working at that newspaper professionally rewarding. Rodriguez was born and educated in schools in East Los Angeles and has professional experience in several major newspapers in the East Coast before coming to San Jose.
Contrasting viewpoints are critical to the survival of a democracy. Some people say that the traditional media is uncomfortable with thinking that differs from its established viewpoint, literary expressions that are unfamiliar and images contrary to the traditional stereotypes of various ethnic communities.
The media has a responsibility to allow disparate viewpoints. That ability to encompass a wider range of viewpoints is critical, particularly for the editorial section of a newspaper which provides the readership with "food fir though" and the inspiration for the development and creativity of the community.
A recent article appeared in the May issue of the Atlantic Monthly entitled, "When the official subject is presidential, politics, taxes, welfare, crime, rights, or values… the real subject is RACE," by Thomas Byrne Edsall with Mary D. Edsall. The author's state, "that conservatism represents the interest of the well-to-do is to be expected – and even respected – as part of the system of democracy. A far more threatening development in that liberalism fails to provide effective challenge, the country will lack the dynamism that only a sustained and vibrant insurgency legitimately claiming for its supporters an equal opportunity to participate and to compete and to gain a measure of justice, is critical, not only to the politics and the economics of the nation but also the vitality of the broader culture and to democracy itself."
In recent article that appeared in the MN editorial page by Don Sneed an Associate Professor of Journalism at San Diego State in his article entitled "Press is still overwhelmingly white-dominated" says "racial prejudice has not gone away. If anything today's racial prejudice is much more subtle and complex but no less insidious than the over white racism dealt with by the Kerner Commission 20 years ago."
Mercury News publisher, Larry Jins, in a recent newsletter to the MN staff wrote. "We should operate with a strong sense of community service." He goes on to state "A good newspaper has a special relationship to the community it serves. We should strive to have a workforce that reflects the diversity in our communities. Our Newspaper should be a positive force for what's true and right in the broader community in which we circulate.
This writer's telephone call to request an opportunity to discuss the rejection of the article neither MN Vice President Robert Engle returned my call nor writer Nora Villagran.
If you have concern regarding this matter, contact the Human Relations Commission at 299-2206 or MN manage3rs: President and Publisher, Larry Jinks; Senior Vice President and Executive, Robert D. Ingle or Entertainment Editor, Ann Hurst. MN management can be reached by telephone at 920-5000. © La Oferta Newspaper.