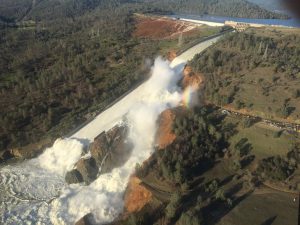 Los Angeles, Feb 14 (EFE).- United States authorities evaluating the Oroville dam on Wednesday downgraded the mandatory evacuation order to the communities below the dam to an evacuation warning.
Butte County Sheriff office released a statement to the communities living under the reservoir advising them of the updates.
"An Evacuation Warning means the immediate threat has ended but the potential for an emergency remains and therefore residents must remain prepared for the possibility of an Evacuation Order," the statement said.
Butte County Sheriff Kory Honea said 125 engineering crews from California's Department of Water Resources were frantically trying to fill in the massive hole halfway down the emergency spillway.
The Oroville dam sits on the feather river and is the highest in the USA, located some 250 kilometers (155 miles) from San Francisco in northern California.
The DWR continued to regulate the outflow and reduce water levels in the reservoir and used helicopters and heavy machinery to support reconstruction activities and protect the nearby Hyatt Power Plant.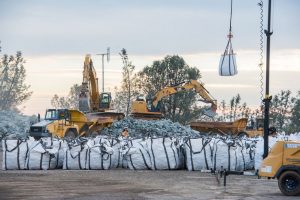 The level of the reservoir continues to decrease, and it is hoped it will be capable of absorbing the anticipated water surge.
The substantial damage suffered last Sunday by Oroville dam's emergency spillway forced the evacuation of nearly 200,000 people.
The DWR announced the water level stood at 271 meters (889 feet), 4 m less than the level recorded late last Sunday.
The weather forecast from the US National Weather Service indicated possible rainfall in the area late Wednesday continuing into early Thursday with more rain expected later in the week.
This forecast rainfall is the main worry for the emergency services as they try to lower the dam's level and avoid the risk of an overflow.
Oroville's dam troubles began last week when a large hole was discovered in the dam's main spillway as they were trying to lower the dam's water level.
When workers were forced to open the emergency causeway, for the first time in the dam's 55-year history, the emergency spillway developed another massive hole.
The extremely high water level is due to the very humid winter California has experienced, after suffering a year-long drought.
Recent rainfall has been exceptional both by its intensity and duration.