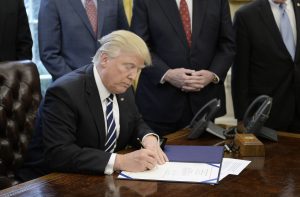 Washington, Feb 14 (EFE).- US President Donald Trump on Tuesday eliminated a rule approved during the Barack Obama administration that had obligated energy firms to make public their payments to foreign governments, one of the many Democratic regulations that the Republicans want to ax.
Trump signed a bill pushed by Republican congressional leaders repealing a regulation finalized last year by the Securities and Exchange Commission to comply with the financial reform law approved by Obama in 2010 and which the new president wants to revoke.
The regulation demanded that publicly traded US energy and mining firms make public their earnings and payments to foreign governments with an eye toward combating corruption in countries rich in energy resources.
The regulation was part of the Dodd-Frank Act, the 2010 regulatory reform package implemented in response to the financial crisis and recession.
"This is a big signing, very important signing. We are bringing back jobs, big league. … The energy jobs are coming back," said Trump upon signing the bill, the third he has inked since his Jan. 20 inauguration.
The president, who signed the law in the presence of Republican House Speaker Paul Ryan and other lawmakers, reiterated that his administration will bring back jobs not only in energy, but also in industry and mining.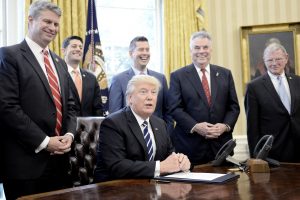 The measure is one of several being pushed by Republicans to take advantage of a 1996 law that has not been utilized in two decades that provides a new president and Congress with the power to revoke the rules and regulations promulgated by the prior administration in the last 60 days of the previous legislative session.
White House press secretary Sean Spicer told reporters at his daily press briefing that the signing of the repeal was the start of a plan to eliminate Obama-era regulations.
Energy firms like ExxonMobil – formerly headed by newly-confirmed Secretary of State Rex Tillerson – had opposed the regulation eliminated on Tuesday along with the US Chamber of Commerce, arguing that US companies could lose their competitiveness to foreign firms if they published the terms of their contracts.
On the other hand, the Senate Democratic opposition argued that the measure was a key mechanism for ensuring transparency and fighting corruption and fraud, thereby protecting US citizens and investors in the words of progressive Sen. Sherrod Brown (D-Ohio), who is on the upper house's banking committee.
While the 2010 financial reform remains in place, the SEC is obligated to create some kind of transparency rule for extraction industries, meaning that it must draft another regulation different from the one repealed on Tuesday.