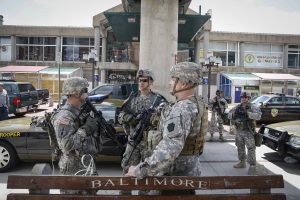 Washington, Feb 17 (EFE).- The White House's spokesman said Friday that a media report indicating that President Donald Trump was considering mobilizing the National Guard to round up and deport undocumented migrants was completely false.
"That is 100 percent not true. It is false," Sean Spicer told reporters aboard Air Force One, which on Friday morning transported Trump to South Carolina for an event at a Boeing plant and later will take him to the Mar-a-Lago estate in Florida.
Spicer was referring to an Associated Press report that said the United States' Department of Homeland Security had proposed in a draft memo that 100,000 National Guard troops be activated to detain undocumented migrants.
"There is no effort at all to round up – to utilize the National Guard to round up illegal immigrants," he added. "I wish you guys had asked before you tweeted."
Spicer, however, did not categorically state that the proposal was not part of discussions on how to accelerate the deportation of undocumented migrants.
"I don't know what could potentially be out there, but I know that there is no effort to do what is potentially suggested," he said. "It is not a White House document."
Trump pledged on the campaign trail that his administration would deport 11 million undocumented migrants believed to be living in the US.
He then said in an interview after the election that he planned to deport between 2-3 million undocumented immigrants with criminal records from the country immediately, although several studies say the number of people who fit that description is lower.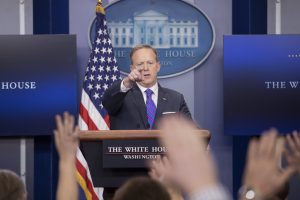 Casa Blanca niega que piense en la Guardia Nacional para deportar inmigrantes
Washington, 17 feb (EFEUSA).- El portavoz de la Casa Blanca, Sean Spicer, aseguró hoy que es totalmente "falso" que el Gobierno del presidente, Donald Trump, esté considerando utilizar la Guardia Nacional para detener y deportar inmigrantes indocumentados.
"No es verdad en un cien por cien. Es falso. Es irresponsable que se diga eso", señaló Spicer en el Air Force One, que traslada hoy a Trump a Carolina del Sur para un evento en una fábrica de Boeing y posteriormente al club de playa de Mar-a-Lago, en Florida.
Spicer negó así una información de la agencia Associated Press (AP) que aseguraba que el Departamento de Seguridad Nacional (DHS) había propuesto en un borrador el despliegue de 100.000 efectivos de la Guardia Nacional (una fuerza militar desplegada en situaciones de emergencia y coordinada por los estados) para detener a indocumentados.
"No hay ningún esfuerzo en marcha para acorralar utilizando a la Guardia Nacional, para acorralar inmigrantes", aseguró Spicer, quien añadió que el documento en el que se basa la información no está originado en la Casa Blanca.
Sin embargo, el portavoz no negó categóricamente que esa posibilidad hubiese formado parte de las discusiones o propuestas para acelerar las deportaciones de indocumentados en algún momento.
El uso de la Guardia Nacional, pensada para 11 estados, según el borrador, iniciaría una militarización sin precedentes de la política migratoria, que se encargan de hacer cumplir autoridades federales dependientes del DHS.
Durante la campaña electoral del pasado año, Trump prometió deportar a los 11 millones de indocumentados que se creen que viven en el país, aunque posteriormente, tras su victoria en los comicios del noviembre, situó ese número entre los 2 o 3 millones.
Según el mandatario, esa era la cifra de indocumentados con antecedentes penales o deudas con la Justicia que podían ser deportados inmediatamente, un dato que numerosos estudios indican que es en realidad más bajo.
En su primer mes en el poder, Trump ha firmado una orden ejecutiva para reforzar a las agencias encargadas de la seguridad fronteriza y de la detención de indocumentados para que se procese y acelere la deportación de personas con antecedentes, en muchos casos faltas leves, que antes no motivaban la salida expedita del país.
Trump también ha firmado un decreto para forzar a los departamentos de Policía de localidades estadounidenses a revisar el estatus migratorio de sus residentes y colaborar con las autoridades federales, algo que ha levantado la oposición de los alcaldes de las principales ciudades del país.
Asimismo, el DHS ha incrementado las redadas organizadas por la Oficina de Inmigración y Aduanas (ICE, por su sigla en inglés) de indocumentados en todo el país, lo que ha elevado las preocupaciones de las organizaciones pro-inmigrantes.