Washington, Feb 17 (EFE).- The United States president on Friday was still searching for a national security adviser after a former vice-admiral who was tipped for the post turned down the job.
It was widely expected that Robert Harward was to step into the shoes of Michael Flynn, a retired lieutenant general whose resignation as NSA was requested by Donald Trump after controversy arose over his conversations with Russian officials before the new administration took office.
In a statement Harward said: "Like all service members understand, and live, this job requires 24 hours a day, 7 days a week focus and commitment to do it right. I currently could not make that commitment."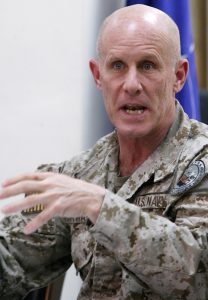 "Since retiring, I have the opportunity to address financial and family issues that would have been challenging in this position," he said.
However, senior Republican politicians told CNN news that he refused the position following a disagreement with how much authority he would have in forming his own team.
The same news site quoted a friend of Haward's saying the vice-admiral thought the White House staffing was in a state of chaos.
Michael Flynn was forced to resign on Monday after it was revealed he had held telephone conversations with a Russian ambassador, the details of which he failed to fully describe to Vice President Mike Pence.
Top White House members said the reason for his voluntary dismissal was due to a breach in trust, although they defended the phone call as a routine part of a presidential transition.
Harward boasts a network of contacts and military experience that not many others in the White House currently share.
He commanded US troops in Iraq and Afghanistan and served on the National Security Council under President George W. Bush as well as acting as the right hand man of James Mattis, Trump's Defense Secretary, when in central command of the 2010-2013 military operations in the Middle East.
Harward's decision comes as a fresh blow to the Trump administration.
He had been favorite to take the position alongside Joseph Kieth Kellog a decorated US general who fought in Vietnam and former director of the CIA David Patraeus.