Miami, Feb 16 (EFE).- Miami will have even more glamor than usual over the next few days thanks to Thursday's opening of two shows featuring luxury yachts, recreational boats and cutting-edge technology.
Yachts Miami Beach, formerly known as the "Yacht and Brokerage Show," is celebrating its 29th edition with 500 luxury and ultra-luxury vessels, some up to 72 meters (235 feet) long and all anchored along a more than mile-long (1.6-kilometer-long) stretch parallel to Collins Avenue, across from the Fontainebleau and Eden Roc hotels.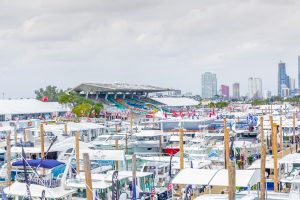 The in-water-only display also includes electric boats for the first time and is being held concurrently with the Miami International Boat Show, which is taking place on Virginia Key in Biscayne Bay and showcasing some 1,300 smaller-size yachts and recreational vessels.
The Miami Beach fair, which runs through Monday and boasts exclusive yachts, superyachts and the most advanced in marine technology and accessories, will have an economic impact in the region of roughly $11 billion and create some 136,000 direct and indirect jobs, Ricardo Strul, vice president of Show Management, co-owner of the show along with Florida Yachts Brokers Association, told EFE.
The luxury boats segment is being buoyed by a more stable American economy, which bodes well for sales at this year's fair, Strul said.
"There's been a resurgence in the United States since the 2009 recession, and the sector has recovered quite well, with quite a powerful market" for yachts measuring between 55 and 65 feet (16 and 19 meters) in length, he added.
The Yachts Miami Beach in-water display of new and pre-owned vessels that are made by the world's foremost custom boat builders and valued at more than $1 billion covers more than 1.2 million sq. feet (111,000 sq. meters) of space.
Tickets to the show, situated along Indian Creek waterway and featuring five entrances, cost $20 per person.