By Lina Broydo
Writer/Blogger and Columnist
Managing to get the treasured ticket, I was thrilled to hear Lang Lang perform again at the recently sold-out recital at San Francisco's Davies Symphony Hall. With the evening's versatile repertoire of Debussy's Ballade (1890), Liszt's Sonata in B Minor (1853); Albeniz from Suite Espanola Opus 47 (1886); Granados from Goyescas, Opus 11 (1911); Falla Danza ritual del fuego (1925) the evening was full of wonder and spectacular technique and presentation we expect from Lang Lang but never have enough. Gifting the adoring and wowing standing ovation audience with his encore play as if watching Sasha Cohen gracefully and effortlessly skating over the piano keys, of Chopin's Nocturne in C-sharp minor, and the Huan Zhi Spring Overture in honor of the Chinese New Year, The Year of the Rooster with Lang Lang expressed his warm greetings from the stage, we headed home happy, smiling and blessed for the future of hope and beautiful sounds of music. Gung Hay Fat Choi to all.
It all started with watching the "Tom & Jerry – The Cat Concerto" cartoon episode to the music of Franz Liszt's "Hungarian Rhapsody #2" when Lang Lang was only two years old. (https://www.youtube.com/watch?v=uKZgi06fVsk.)This was the first time the youngster was introduced to the Western Music and as they say: the rest is history: Lang Lang's love of music was born and we are forever richer. No wonder and not surprising to me that he serves as an Ambassador of the YouTube Symphony Orchestra. How very smart of Google, the YouTube's business partner to recruit Lang Lang as its music Ambassador. With both companies located in the heart of Silicon Valley rest assured the Bay Area is definitely the Lang Lang Land.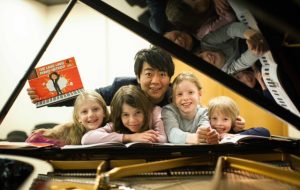 Who would have thought that watching and hearing the "Tom & Jerry – The Cat Concerto" cartoon would motivate Lang Lang to learn the piano. Well, here is a short (well in Lang Lang's case it can not be short,) musical journey of a toddler who became an international sensation. Lang Lang began piano lessons at the age of three. He won the prestigious Shenyang Competition and gave his first recital by five. Enrolled in Beijing's Central Music Conservatory aged nine, and wining first prize at the prestigious Tchaikovsky International Young Musicians Competition at the age of thirteen. With his fame reaching overseas he was invited to the famed Curtis Institute of Music in Philadelphia where he studied with Gary Graffman and came to the worldwide attention as a last-minute soloist substitute with the Chicago Symphony.
Lang Lang made his San Francisco Symphony debut in October 2000 as a Shenson Young Artist. In addition to his regular appearances with leading orchestra's world-wide, including among others a concert with Israel's Philharmonic under the brilliant baton of Maestro Zubin Mehta in Tel Aviv's Mann's Auditorium in Israel, which I was very fortunate to attend with my beloved late Mom, who could not decide who she liked better Zubin Mehta or the young Lang Lang.
Chopin has played a key role in Lang Lang's career. A year-long season commemorating the 200th anniversary of Chopin's birth was officially launched in 2010 with a gala concert at the Warsaw Philharmonic Concert Hall featuring 27-year-old Chinese pianist Lang Lang. Personally this was in my humble opinion an era when Lang Lang finally reached the maturity of his superb understanding of a true Polish Chopin-esque feeling and interpretation . While visiting Warsaw at this time I could feel the city's every inch breath with Chopin's music. It was filled to the capacity with the sounds of his unforgettable compositions.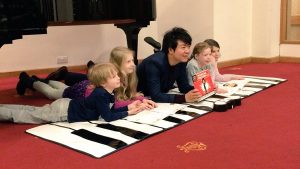 Lang Lang has given performances at the World Soccer Cup, The Grammy Awards where he was the first Chinese artist to be nominated for Best Instrumental Soloist, and the Opening Ceremony of the 2008 Beijing Olympics. His film credits include the Golden-Globe-winning score for The Painted Vail. As the world mourned last year the passing of the legendary poet/singer Leonard Cohen at the age of 82, Lang Lang has turned the singer's iconic "Hallelujah" into a mesmerizing mini piano rhapsody.
Lang Lang is one of the world's most popular and in demand artists. His many appearances included performances for President Barak Obama, President Hu Jintao of China, President Horst Kohler of Germany, Prince Charles, Russian President Vladimir Putin, French President Nocolas Sarkozy and Polish President Lech Kaczynski. In 2012 Lang Lang played Liszt's "Hungarian Rhapsody #6" and Gershwin's "Rhapsody In Blue" at Her Majesty Queen Elizabeth's Diamond Jubilee Concert at Buckingham Palace. Hhmm, seems he has passion for Rhapsodies.
Lang Lang has introduced music into lives of children, both through his work for the United Nations and through his own Lang Lang International Music Foundation headquartered in New York with Foundation's European partners in Vienna, Austria and Berlin, Germany. "I have loved making my new series for complete beginners and presenting a way of learning the piano that 21st century children can relate to" says Lang Lang.
After all not all kids watch the "Tom & Jerry – The Cat Concerto" cartoon. Now they are more into "Star Wars".