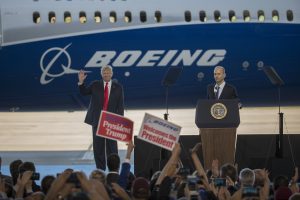 Washington, FeB 17 (EFE).- US President Donald Trump took the unveiling of a new Boeing aircraft on Friday as an occasion to restate his protectionist promise that, under his government, workers will "win" big in this country while companies that outsource production to other countries will be hit with "substantial penalties."
In his first speech outside Washington since he took office in January, in the staunchly Republican state of South Carolina, Trump delivered once more the economic message of his campaign that largely led to his victory in the November elections.
"When there is a level playing field, and I've been saying this for a long time, American workers will always, always, always win. But we don't have a level playing field. Very shortly, you will have a level playing field again," Trump said from Charleston, South Carolina.
The president attended the unveiling of the new Boeing 787-10 Dreamliner, a new commercial aircraft designed to carry more than 300 passengers and manufactured at the US company's plant in South Carolina. Boeing aims to put it into service next year.
"This plane, as you know, was built right here in the great state of South Carolina. Our goal as a nation must be to rely less on imports and more on products made right here in the USA," Trump said.
The president promised his government will "massively reduce job-crushing regulations…that send our jobs to those other countries. We are going to lower taxes on American business so it's cheaper and easier to produce product and beautiful things like airplanes right here in America."
"There will be a very substantial penalty to be paid when they fire their people and move to another country, make the product, and think that they're going to sell it back over what will soon be a very, very strong border. Going to be a lot different," he said.
Trump acknowledged that his promise to return jobs to America that were lost to the outsourcing practiced by many companies "is one of the primary reasons I'm standing here today as your president, and I will never, ever disappoint you."