June 26. 1991
By Yolanda Reynolds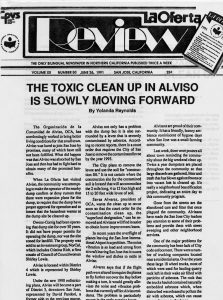 The Organizacion de la Comunidad de Alviso. OCA, has unrelenting, worked to bring better living conditions for that small town. Alviso was lured to join San Jose by promises, many of which have still not been fulfilled. What did happen was that Alviso was absorbed by San Jose and then has had to fight hard to obtain many of the promised benefits.
When La Oferta last visited Alviso, the community was attempting to make the operator of the nearby dump confirm or deny rumors that there were expansion plans for the dump, to require that the dump have proper approval for operation and to insure that the hazardous wastes at the dump site be cleaned up.
Otwens-Cornig has been operating the dump site for over30 years. It did not have proper permits to: operating the dump, nor was the site zoned for landfill. The property was sold to an investment group, NorCal, which includes Cristina Rich, a first cousin of Councilwoman Shirley Lewis.
Alviso is located within district 4 which is represented by Shirley Lewis.
Under the new 199o redistricting plans, Alviso will become a part of District 3, downtown San Jose, represented by David Pandori, a former aide to the previous mayor Tom McEnery.
Alviso was not only a problem with the dump but it is also surrounded by a levee that is severely contaminated by asbestos. According to recent reports, there is a court order that requires the City of San Jose to remove the contaminated levee by the year 1995.
The City plans to remove the levee and use the soil for "construction fill." It is not certain where the construction site for the contaminated soil is located that will accommodate the 2 mile long, 4 to 12 high and 15 to 20 feet wide levee of soil.
Savas Alvarez, president of OCA, wants the clean-up to occur soon so that the court order for the contamination clean up, the "superfund designation," can be removed and Alvisans will find it easier to obtain home improvement loans.
In recent years, the overflight of planes leaving the San Jose International Airport is a problem. The noise vibration is so loud and strong from aircraft leaving San Jose that it causes the windows and dishes to rattle in Alviso.
Alvarez says that if the flight path were altered to require the planes to fly further out over the Bay before making a turn, it would greatly alleviate the noise and vibration problems that currently afflict Alviso residents. The problem is particularly severe in the early evening hours.
Alvisans are proud of their community, it has I friendly, homey ambience reminiscent of bygone days when San Jose was a small farming community.
Last week, there were posters all about town reminding the community about the big weekend cleanup. Twice a year dumpsters are placed throughout the community so that that large discards are gathered, litter and trash that has blown against fences or into vacant lots is cleaned up. It's really a neighborhood beautification project, dedicating an entire day to his to this community program.
Gone from the streets are the abandoned cars and litter that once plagued the community. Alvisans have made the San Jose City leaders pay attention to some of their problems and provide them with street sweeping and other neighborhood services.
One of the major problems for the community has been lack of City code enforcement. There were a number of trucking companies located near a residential area. Over the years these large 18 wheel trucks, most of which were used for hauling quarry rock left in their wake air filled with particles of asbestos. The rock that the trucks hauled contained naturally embedded asbestos which, when disturbed was released to pollute the air with asbestos, which can cause severe damage to the lungs.
The estimated 200 trucks that drive through a part of Alviso that has unpaved roads throw a tremendous amount of dust unto the air in addition to the asbestos. The trucking companies have been ordered to move because their businesses are out of code compliance, that are located in an area not designated for heavy industrial use.
The City now maintains a Code enforcement office a few hours each week. That has greatly helped to improve conditions in Alviso by monitoring compliance of city codes.
Alvarez says that he would like bronchial and lung testing programs made available to the community. He says that some of his neighbors suffer from continuous bronchial problems.
OCA leaders have prepared a position paper regarding environmental, safety and financial restitution issues related to the Owens-Corning dump operation. Final agreements have not been made but negotiations are expected to begin in the near future.
The community was successful in requiring that the dump operators conduct a new and more complete EIR (Environmental Impact Report) and that appropriate remediation of the environmental impact be agreed upon before the City of San Jose issues permits for n expansion of operations at the old dump site.
The owner of NorCal. Plan to construct an 80,000 sq. Foot building atop part of the old dump site. The new building will be used for the recycling of glass, wood, yard waste and aluminum. Concrete will be ground for reuse nearby, but out of doors.
OCA and the community have worked closely with environmental groups. The Sierra Group, the Santa Clara County Toxics Coalition, Save Our South Bay Wetlands and other groups and individuals in the community are making steady progress in arresting the degradation of a community and the habitat of rare endangered wetland wildlife.
Serious problems still remain because the asbestos is still there – the dumping is is still there. Recycling, through good, can cause problems, such as the release of very fine dust as has occurred in central San Jose at a recycle center for wood products.
Alviso is small community, primarily of Hispanics, who have lived there since the very early 50's.
Alviso is an "old town." It was laid out in the 1850's. In the late 1800's and then again in 1930 there was talk of construction a port at Alviso. Plans were made to connect San Jose and Alviso by rail and to make a port by dredging the mouth of the Guadalupe River.
The depression ended talk of making Alviso a port of entry. Rumors of the development of Alviso's scenic bayside location surface on occasion, but, more often than not, are accompanied with rumors that Alviso's neglect it a sinister attempt to dislodge the current owner at low cost to provide for a windfall of wealth for others late on.
Alvisans, in a fury of protest for long promised paved streets arched from Alviso to San Jose in the early 1970's. They were successful in getting their main street paved at that time.
Alvarez says that, besides the toxics clean up and enforceable and meaningful controls meaningful controls on the dumping and recycling operation – the community needs a larger library, a community center and a park equipped for the children.
Alviso is having an all day "Alviso Feast" fund raising celebration on Saturday 1 p.m. – 9 p.m., June 29. There will be a live band, Mexican food, carnival rides and games.
Savas Alvarez, Tony Robles, Mary D. Cuevas, Ruben Orozco, Inadalecio, Del Real, Isidro Ibarra and Jose Camarena as the members of OCA's Board of Directors.
For more information on OCA call (408) 263-0662. © La Oferta Newspaper.