July 13, 1991
By Yolanda Reynolds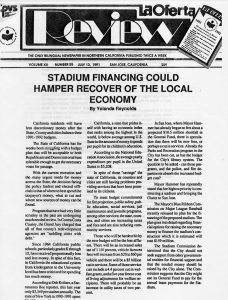 California residents will have less discretionary money after the State, County and cities balance their 1991-1992 budgets.
The State of California has for weeks been struggling with a budget plan that will be acceptable to both Republicans and Democrats or at least tolerable enough to get the necessary votes for passage.
With the current recession and the many urgent needs for money across the State. the decision facing the policy 1% and elected officials is that of where to best spend the taxpayer's money, what to cut and where new sources of money can be found.
Program that have had very little scrutiny in the pan are undergoing much needed review. In Contra Costa County, the Grand Jury charged that all of that county's redevelopment agencies are "saddling cities with debt."
Since 1964 California public schools, particularly public schools, particularly grades K through 12, have received proportionally less and less money. In spite of this fact, in California the educational system from kindergarten to the University level has been criticized for spending too much money.
According to Deb Kollars, a Sacramento Bee reporter, this last you only $3.549 per student annually. The state of New York in 1990-1991 spent $8,680 per pupil.
California, a state that prides itself with having an economic index that ranks among the highest in the world, is below average among U.S. State in the amount of money it spends per pupil for its children's education.
According to National Education Association, the average yearly expenditure per pupil in the United States is $5,208.
In spite of those "savings" the state of California, its counties and cities are still having problems providing services that have been promised to its citizens.
To meet budget commitments for fire projection, public safety, public education, social services, jail maintenance and juvenile programs, among other services; the state, counties, and cities are increasing and fees and are also reducing community services.
Those who will be hardest hit by the new budget will be the less affluent. There will be an increased sales tax of 1 ¼ percent, vehicle licenses fees will increase from $20 to $60 per vehicle and there will be a $5 billion cut in services. Some of those services cuts include a 4.4 percent cut in welfare grants, and a five year freeze cost of living adjustments for welfare recipients. There will probably be an increase in utility taxes of two percent.
In San Jose, where Mayor Hammer has already begun to fret about a projected $10.5 million shortfall in the General Fund, there is speculation that there will be new fees, or perhaps a cut in services. Already the Park and Recreation program in the City has been cut as has the budget for the City's library system. The question to be asked – can these programs, and the police, and life departments absorb the increased budget cuts?
Mayor Hammer has repeatedly stated that her highest priority is constructing a stadium and bringing the Giants to San Jose.
The Mayor's Blue Ribbon Commission on Major League Baseball recently released its plan for the financing of the proposed stadium. The plan goes into detail regarding financial options for raising the necessary money to finance the stadium's construction which it is estimated will cost $159 million.
The Stadium Commission determined that the City should not seek support from other governmental entities for financial support and that the needed money should be raised by the City alone. The Commission suggests that the City might use its General Fund to pay for the annual lease payments for the Stadium.
Also, they say that declaring the stadium to be an "Enterprise Fun Area" would help (but that too would require more taxes for San Jose citizens). To charge more taxes the City would have to obtain a 2/3 approval from the voters of San Jose.
Last November, when San Jose voters were asked in Measure H. "Shall the City of San Jose participate in the building of a sports facility for major league baseball with the use of tax dollars," the answer was a clean' "no" from 138,014 San Jose voters. Measure "H" was defeated by almost 4,000 votes.
Another financing tool would be to use "Certificate of Participation" or lease revenue Bonds but this would require encumbering the General Fund (the money that pays for police libraries, etc.) as back up should the stadium not generate enough revenues to pay for in debt service.
The new Convention was built with certificates of Participating or revenue bonding. So far the Convention Center has not made enough money to pay its debt service. The City's General Fund/Redevelopment Agency last year (90-91) paid out $12 million in debt service and this year expects to pay another less if the new Convention Center makes more money, but even so – the debt service payment will be in the millions. Hopefully, as the Convention Center becomes more profitable, less General Fund/Redevelopment (taxpayer) money will have to be used to pay off the Convention Center debt.
Another source of money is tax exempt bonding which by law (1986 Tax Reform Legislation), limits the amount of private gain possible when using public tax exempt money bonding. In fact, each state has a cap on the dollar amount of tax exempt bonding to be issued in the state. With all of the infrastructure needs such as roadways and new school building, a stadium has to be a very low priority.
According to the Commission report, the City is also, afraid that if it owns the stadium outright that the stadium outright that the stadium users will leave for greener pastures at the first opportunity – an event that occurs rather frequently in the very competitive world of franchise sports.
Another suggestion is to have the City and the sports team owner jointly own the stadium. They give as examples the Fairmont Hotel in San Jose, which they say is a joint venture. That is news to make San Jose citizens. Public investments in the Fairmont Hotel was sspecifically promised by the Redevelopment Agency and the Board.
The Stadium Commission suggests that a proper division of property would have the City would own the superstructure and the private developer owning the seats, suites and vendor improvements.
If bonding is prohibited, either because of cost or by law and the ball team and owner are disinclined to risk the expense of building a stadium, the only other option is to tax San Jose residents.
The stadium Commission explores and suggests such possibilities. Some of the suggestions are a 1% utility tax. That its estimated to generate $7 million in revenues. Another $2.9 to $4 million would be raised if the utility tax were extended to interstate and international telephone service.
Another revenue source would be to increase construction taxes. $6.2 million could be raised annually if the construction taxes were increased by50%. Those increased taxes would likely be passed onto the buyer of the new home, commercial and industrial structures. Already the high permit fees for new construction reported by have greatly added to the cost of housing, making it difficult to purchase low and moderately priced housing in San Jose.
Another possibility is to increase card room taxes. There is one such operation in San Jose, the Garden City Card Room. The owners of that club are in court because of allegations of Federal Income tax evasion. Increased gambling has associated costs, such as the need for more police surveillance due to the possibility of increased illegal activity.
Other options are to increase stadium parking and car rental taxes in San Jose. Parking taxes could be very high because that is also one of the revenues sources for proposed sports facility owners. In addition, the California Air Quality Board is considering recommending increased parking fees everywhere in the Bay Area as a way to decrease air pollution and traffic congestion.
A recent Mercury News (MN) article by Ron Wolf states that the budget burden will weaken the state's economy, because state sales taxes will increase by 10%. Locally more and more fees have been imposed on everything from business licensing taxes to building permits and traffic fines, among many other new or increased fees for a variety of services.
Because of the recession and budgetary problems faced by every governmental entity many people are also losing their jobs. In California unemployment is now over 8%. According to MN writer, Wolf, California provides "$12 8 million jobs. 50% more than any other state. Wolf says that an increase of "only one tenth of a percent means that 6,400 people have lost their jobs."
For parts of San Jose that unemployment figure is thought to be much, much higher.
The stadium boosters claim that stadium in San Jose will create jobs. What is not discussed is that most of the jobs, with the exception of the ball players, will be low income occupations. There will be jobs for ticket takes, vendors. janitors. parking attendant, waiters, short order cooks, bartenders. etc. All of these are generally low paying jobs ranging in pay from $4.25 per hour to $11 per hour.
A recent study prepared by University of California students, Guillermo Frias, Ian A Nazzari, Stevens Slatten and Adrian Fernandez-Del-Campo, states that "contrary to the Redevelopment Agency and Board claims that the fastest growing employment sector of the economy, and the biggest, is composed of professional or high tech industries… the reality is the low income sector is the fastest growing."
There are those in the community who feel that spending Redevelopment (taxpayers-money) for a stadium is a serious mistake. What these critics say (among the most vocal of whom has been the Student Homeless Alliance) is that any money to be spent by the city would be best spent to provide very low income housing.
According to the Association of Bay Area Government, the City of San Jose needs 16,030 low income housing units by 1995. So far it has built only 2,000 such dwellings since 1980. The City has not built enough replacement to house even for those who were displaced by the Redevelopment of downtown San Jose and the Guadalupe River Park Project.
A stadium in San Jose requiring more taxpayer financing and only increasing the number of low paying jobs in the San Jose area is causing serious debate and increasing opposition to the stadium.
Already the City its a critical need for more very low, low and affordable income housing. Construction of attractive, manageable housing for the fastest growing segment of the work force would provide as much, or possibly even more, employment to a construction industry that has been especially hard hit with the recession. © La Oferta Newspaper.