September 14, 1991
By Yolanda Reynolds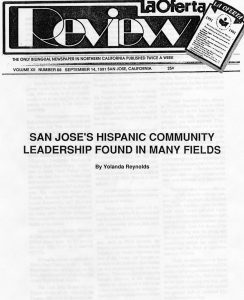 The decennial legislative redistricting process has focused attention on the elected officials of the various communities that make up the City, County and State.
Most final district lines will some face a court challenge. Clever manipulation of the groupings becomes evident — in some districts, areas with high voter turnouts are combined with areas where voter participation has been slight; in other areas, some districts have been formed that look like a scattered mass of tangled string (as one proposed District in San Francisco that was designed to create an Asian American voting Supervisorial District).
Indeed, much of a community's power comes front its elected officials. What seems to be frequently overlooked in an analysis of community leadership is its informal leadership.
Within the Hispanic community in San Jose that leadership is real and very powerful. That leadership can be found in business, education. community action, arts and the churches.
A recent article by Chronicle writer Beatrice Motamedi entitled, "Hispanics Overcome Barriers in Owning High Tech Finns," showed that, in Santa Clara Valley alone, there are four Hispanic owned high tech businesses whose 1990 revenues totaled approximately $33 million last year. The companies listed were Touche, Saucedo Metal Products, Arcom Electronics, and Electrical Power Products. They are leaders, of the many other smaller businesses that are contributing to the economic health of the county.
According to reporter Motamedi Hispanic owned businesses in the United States grew by 80 percent between 1982-1987 to a total of 422,373.
In the educational community of Santa Clara County notable educational leaders are such persons as Joe Coto, Superintendent of the Eastside Union High School District.
The East Side Union School District is one of the largest in the County, with over 21 thousand students. Other notable leaders in education are the teachers and staff of the Center for Employment Training (CET) based in San Jose. CET is an internationally acclaimed job training and educational institution.
There are numerous teachers within the County whose work in education is notable, such as, Margie Maestas Flores of Evergreen Valley College, whose development and administration of the "Enlace Program" has recently received much acclaim. This program, directed towards Hispanic students, is designed to provide a supportive environment that will enhance student success. The program has been successful and has been duplicated at other colleges. A key component of this program is its mentor program wherein the students have close contact with successful Hispanic role models.
Flores was recently honored by the National Hispanic Professional Engineers, whose membership numbers over 6,000 nationwide. They awarded the Junipero Serra Award to her for outstanding performance as an educator.
Another such educational leader is Jose Valdez. Valdez is scheduled to be honored, among others, at the "Portraits of Success" banquet sponsored by the Hispanic Development Corporation (HDC) for the outstanding performance of his mathematics students. Valdez, until forced to retire because of illness, taught at Andrew Hill High School a local school.
All told these and other educators touch and influence the lives of many thousands of students.
There are many others in the community who have demonstrated true leadership in direct involvement with community groups and community issues.
Such leaders can be found in the arts, such as, Felix Alvarez, the founder and executive director of El Teatro de los Pobres. His work, and that of the Teatro, has brought attention to the problems that alcohol use and abuse creates with the community. They have also dramatically brought attention to the insidious manner in which alcohol and its use is encouraged among the young particularly within ethnic communities.
Kathy Chavez Napoli, a local business woman, was a leader in reversing the Redevelopment Agency's (San Jose City Council) decision to remove the one remaining Spanish Language theater from downtown San Jose. The agency wanted instead to give the location to the San Jose Repertory Theater, another group that caters to a non Hispanic audience. This was no small achievement as the Council and Mayor with very, very few exceptions supported Agency Director Frank Taylor's redevelopment plans.
The consequences of all these controversies have been to heighten an awareness of the diversity of the City of San Jose. Community input was such an issue in the last mayoral election, that the newly elected Mayor, Susan Hammer, promised a revised system for the selection of City Commission and Committee membership.
Mayor Hammer's plan, known as "Project Diversity," was unveiled las Tuesday at the San Jose City Council meeting. Generally, the proposal was well received. There are some thorny issues yet to be resolved, the most serious of which is the distribution of the power to appoint. The plan, as submitted, gives that authority almost entirely to the Mayor — members of the Council are reluctant to give up their role in having a direct and meaningful voice in the selection process. A final decision on this and other matters related to the plan was deferred until September 17.
There are other leaders who are working very directly with the community. Such are people like Rachael Silva, who has been active in labor trade union issues and civil rights issues since the 60's. There are people such as the Dominguez brothers, Jesse and Enrique. Jesse has devoted his life to working with the young and Enrique, his work in Civil Rights and community action has taken him throughout the State of California and into Arizona.
There are others, such as Savas Alvarez, who is President of the OCA, a community organization in Alviso that has brought City Hall attention to the toxic dumping that had, until recently, occurred there and exposed the general lack of promised City neighborhood services.
Among the youth, there are many college students, some members of MECHA, and others who have worked very hard on numerous campaigns. One group, from San Jose City College, were effective in establishing Districts for the election of the San Jose/Evergrcen Community College District Trustees. Today there are three new Trustees, two are Hispanic and one is African American. Leaders of this effort were former Community College students, John Morales and Ed Morales.
At San Jose State, there is Juan Haro, who brought attention to the atmosphere of prejudice and abuse that some campus security personnel had expressed towards minority students attending San Jose State.
A number of organizations; the G.l. Forum, the Latino Issues Forum, both, local and statewide, SHPE, Barrio Art Gallery, and many other groups too numerous to mention, continue to exert an enormous influence in the community, state and nation.
There are other leaders, San Jose residents who are Mexican citizens and remain legally in the United States and oppose the oppressive weight of the dominant PRI government, which has in recent years promised many reforms. According to informed sources there are many pockets of opposition to the central government, which include many from the states of Sinaloa, Michoacan and Oaxaca.
It is from these very states and areas of Mexico that so many of the farm workers hail. Hard workers, who will live in such squalor as "El Pirul" and Prunedale because the economic situation is so grim in their homeland that they are unable to feed their families, much less educate their children, without traveling far to the U.S. in search of some pay for their labor.
Though many living in the United States feel disdain for the immigrant. and sometimes illegal worker, that sentiment is ill placed. Many workers travel to a foreign country where, more often than not they encounter more exploitation, discrimination and abuse, and knowing this, come anyway, demonstrating enormous courage, an enormous desire to work — at very hard labor — to improve their lives, as well as, that of their families.
According to an article last Sunday by Reuter reporter, David Haskel, "Police killing, torture, political violence, and unexplained disappearances continue unabated, despite President Carlos Salinas' pledge to improve the human rights situation."
According to Haskel, this report was released by Americas Watch, a respected U.S. based human rights organization, to coincide with the meeting of the U.S. Mexico BiNational Commission, a ministerial — level conference held every year.
The correction of these abuse in Mexico was to be a part of the free trade discussions between the U.S. and Mexico. But it can not be too sincere when such abuses occur here in the United States and even in San Jose.
Hispanic power in Santa Clara County is diffuse. However, that power has and does come together on certain issues. That power and leadership does not all reside within the ranks of elected Hispanic officials. The real power is found within the community; among its educators, community advocates, and business leaders helped by the numerous sources of information provided by the Hispanic media, who keep the community informed of important community issues.
It has been the community that has made a difference in the elections. It is the community that has raised the issues and demanded changes.
September 16 is a celebration not only of Mexico's Independence from Spain but a celebration of San Jose's Hispanic community and the Independence and power that can come front an informed and aroused community. © La Oferta Newspaper.