PACT SAYS A FAIR SHARE IS NEEDED FOR YOUTH
November 9, 1991
By Yolanda Reynolds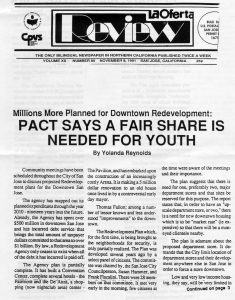 Community meetings have been scheduled throughout the City of San Jose to discuss projected Redevelopment plans for the Downtown San Jose.
The agency has mapped out its planned expenditures through the year 2010 – nineteen years into the future. Already, the Agency has spent over $500 million in downtown San Jose and has incurred debt service that brings the total amount of taxpayer dollars committed to that arm to over $1 billion. By law, a Redevelopment Agency only ceases to exist when all of the debt it has incurred is paid off.
The Agency plan is partially complete. It has built a Convention Center, complete several hotels – the Fairmont and the De Anza, a shopping (now nightclub area) center – The Pavilion, and has embarked upon the construction of an increasingly costly Arena. Lt is making a 5 million dollar renovation to an old house once lived in by a controversial early day mayor.
Thomas Fallon; among a number of lessor known and less under stood "improvements" to the downtown.
The Redevelopment Plan which, for the first time, is being brought to the neighborhoods for security, is only partially realized. The Plan was developed several years ago by a select panel of citizens. The committee was chaired by, the San Jose City Councilperson, Susan Hammer, and Frank Fiscalini. There were 28 members on that committee. It met very early in the morning, few citizens at the time were aware of the meetings and their importance.
The plan suggests that there is need for one, preferably two, major department stores and that sites be reserved for this purpose. The report states that, in order to have an "upscale department store, or two," there is a need for new downtown housing which is to be "market rate" (ie expensive) so that, there will be a moneyed clientele nearby.
The plan is adamant about the proposed department store. It demands that the City limit location of department stores and their development anywhere else in San lose in order to force a store downtown.
Low and very low income housing, they say, will be very limited in order to force a store downtown.
Low and very low income housing, they say, will be very limited in the downtown are because of the enormous subsidy required due to the very high land prices in downtown San Jose. The planners suggest that low income housing is to be located within the "frame" area rather than in the "core."
The Downtown Working Review Committee (DWRC) designated the old cannery areas to the north and south of the city as part of the frame area, where the low and very low income housing is to be located.
Part of that plan, the Jackson-Taylor Residential Strategy, was recently approved by the San Jose City Council. That plan caused a division of the adjoining neighborhoods, some of the residents supported the plan and others opposed it. Some people are still skeptical of the promises that have been made for low income housing in the plan. They say this because the plan does not guarantee a definite percentage of low income dwellings.
The Jackson-Taylor plan took several years to evolve, there were many meetings between the developers neighboring communities and the Redevelopment Agency (City Council).
The Plan recommends continued subsidies for downtown development, It states that "financial support is needed to attract residential developments in the Downtown and recommends continued financial assistance from Redevelopment and the City of San Jose." Market rate housing depressed real estate market. Real estate are sluggish and additional housing on the market would provide difficulties for existing homeowners who wish to sell.
The Plan states that no more "non-traditional" units will be allowed in the downtown core and frame area and that SROs (Single Room Occupancy) dwellings will be located "on arterial streets to facilitate access to jobs and transportation. (The definition of what is "non-traditional" is not clear.) The Plan also states that each council District should accept a fair share of SRO-type housing.
The Plan urges immediate promotion of a downtown department/retail center. It suggests, "underwriting (the) costs of actual buildings (needed) for (the) department stores."
According to the Plan, the Agency and the City are to promote art and events to "enhance existing and future retail retention, recruitment… and are to provide free parking." At last report that is happening – the Downtown Association receives $250,000 per year just for promotion.
The Plan identifies our "priority" sites for "destination retailers" who will be given "incentives" (tax payer money.)
More office space, particularly space that would be used as "corporate" headquarters is desired and planned. Here the Plan urges that the Agency (City) use a number of "incentives." Among them the use of eminent domain and have the City waive, or paid by the Redevelopment Agency (taxpayer), the required business and construction fees and/or other charges.
Also, to be given these developments will be "enterprise Zone" benefits such as: waivers of City Construction Taxes (4 1/2 percent of valuation of the development); State sales tax credits on purchase of all equipment for use on site; State hiring credit (if hiring people from training program): and freedom from California taxes for interest earned on investments in the businesses.
The Plans for most of the new downtown hotels have already been approved. Contrary to early promises, the City has agreed to provide the developers with alluring incentives. A recent to Manou Mobedshabi to reopen the St. Claire Hotel; $5 more million go the Fairmont Hotel which already has beneffited from other incentives exceeding $30 million; $18 million to Crowne Plaza (this goes to J. Phillip DiNapoli and Lew Wolfe, both multimillionaires) to build "Hotel West" next to the new Convention Center; 33 million which has already gone for the renovation of the De Anza Hotel; the list goes on – adding many more millions of dollars (taxpayer dollars) to this total.
The Plan recommends the building of a 450 seat facility for the San Jose Repertory Theater and finding a new location and the construction of a new building for the San Jose Symphony.
It plans for a new downtown City Hall, preferably at the Valley 5 Title location. There are plans for a new location and structure for the Martin Luther King Library to be constructed at the downtown Sanwa Bank site.
Property acquisition for these new locations and projects involve use of eminent domain and enormous amounts of taxpayer dollars.
Such use of the taxpayers hard earned money for such ventures at a time when all levels of society and government are hard pressed just to survive, is increasingly questioned by many in the community.
Recently, PACT (People Acting in Community Together) developed a slide presentation and information program that will be shared with residents throughout the San Jose area regarding the budget impacts of Redevelopment. Their program, entitled "Fair Share for Youth: Civic Education on Redevelopment For People Who Care," explains the origin intent of "redevelopment" and contrasts this with the actual role Redevelopment has taken in San Jose.
PACT says that it wants a "fair share of the tax dollar to go for the youth."
PACT and its member organizations, whose total membership numbers 27,000 families, focused last year on the city wide problems of drugs and gangs.
PACT leaders says that although there has recently been increased attention to the problem of drugs and gangs and the needs of youths and their families, much more remains to be done. PACT contends that only a select group of developers are beneffiting from redevelopment, while "many of the budget items that affect the quality of life of the citizens have been frozen, cut or rejected."
PACT is asking that the City's/Redevelopment budget to be revised. Instead of luxury hotel subsidies the budget should address drug treatment programs, quality after school entertainment, a youth jobs program, programs to keep youth in school, library homework centers, increased drug and gang prevention and neighborhood policing program.
Recently, PACT was successful in obtaining $1 million from the Redevelopment Agency to begin a drug rehabilitation program for youth in San Jose. It is modeled after a similar program, LA Best, in Los Angeles. Mayor Hammer dubbed the new San Jose program San Jose Best.
Numerous questions have been raised regarding many elements of the Redevelopment Plan. Citizens question the lack of cost controls Redevelopment Projects repeatedly go many times over budget and Redevelopment claims of economic benefit – generally these claims are greatly overstated or remain non-existent. With regard to the Arena, taxpayers and San Jose voters were promised that the arena would not exceed $100 million as a condition of their narrow vote to approve the project. (How many votes might have been switched if the total cost had been admitted.) Other question the intervention of government into competition in the market place.
All person who take an interest in our community should consider those issues for themselves and take an active interest in expressing their thoughts to their elected officials.
The meetings have begun but there is still time to attend these important meetings to learn more about the Plan. You are welcome to attend any one or more of the meetings.
For locations dates of the Redevelopment Agency community meetings see below:
November 7, 7:00-9:00 p.m.: 0linder Elementary, 840 E. Williams St.
November 13, 7:00-9:00 p.m.: Yerba Buena H.S., 1855 Lucretia Ave.
November 14, 7:00-9:00 pm.  Eastside Senior Center, 2150 Alum Rock Ave.
November 21, 7:00-9:00 p.m.: Castillero Middle School, 6384 Leyland Park Dr.
December 4, 7:00-9:00 'p.m.: Kirk Community Center, 1601 Foxworthy Ave.
December 9, 7:00-9:00 p.m.: Santa Teresa Library, 290 International Circle.
For more information on the PACT community education program contact PACT at 998-8001. © La Oferta Newspaper.