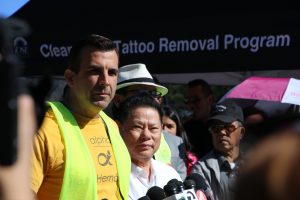 San Jose, CA – City leaders gathered today in the Rock Springs neighborhood to extend their gratitude to Mr. Kieu Hoang, CEO & Chairman of RAAS, for making a generous $5 million donation to the San Jose Flood Victims Relief Fund.
"Mr. Hoang's extraordinarily generous gift will make an enormous and immediate difference for the hundreds of flood victims who've been forced from their homes as a result of this disaster," said Mayor Sam Liccardo. "I will always remember how thousands of donors and volunteers came together in a time of crisis to contribute their time, energy and money to help our neighbors get back on their feet."
The seven-figure gift reflects a joint effort between Mayor Sam Liccardo, Councilmember Tam Nguyen and Mr. Chieu Van Le, co-founder of Lee's Sandwiches, who has been a long-time friend of Mr. Hoang and helped connect him with city leaders and the relief effort.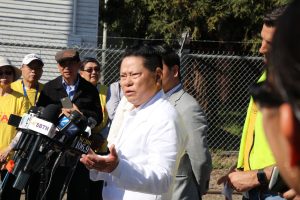 "I'm humbled by the kindness of Mr. Chieu Van Le and the generosity of his good friend Kieu Hoang who reached out to me yesterday to help the flood victims," said Councilmember Tam Nguyen. "And I am pleased that the Mayor has been prepared to accept this wonderful donation from Mr. Hoang and will see to it that his wish be fulfilled and that the victims will be helped in a timely manner."
The San Jose Flood Victims Relief Fund will provide identified non-profit organizations with funding to intake, screen, and assess displaced flood victims and offer emergency financial assistance to support housing stability and other immediate needs. Types of direct financial assistance may include temporary rental subsidies, hotel vouchers, work-related tools or equipment, vehicle repairs or replacement, home furnishings, or other immediate needs support, and priority will be given to vulnerable households that have been either temporarily or permanently displaced from their homes.
When added to the thousands of other generous gifts received to-date, the fund has now raised more than $6 million that will be used to provide relief and assistance to food victims most severely impacted by flooding along the Coyote Creek last week. The fund was established jointly by Mayor Sam Liccardo and Silicon Valley Community Foundation.
"The outpouring of community support for those whose lives have been affected by last week's flooding has been tremendous," said Emmett D. Carson, Ph.D., CEO and president of Silicon Valley Community Foundation. "This newly announced gift – combined with the many donations from Silicon Valley residents and companies who were moved to help – will bring much-needed assistance to those who've been harmed by the flood."