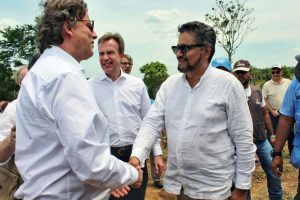 Bogota, Mar 3 (EFE).- The foreign ministers of Norway and the Netherlands on Friday visited an encampment of the Revolutionary Armed Forces of Colombia (FARC) guerrillas, and expressed their support for the implementation of the peace deal reached with the government.
Børge Brende and Bert Koenders visited Veredal Transitory Standardization Zone (ZVTN) La Cooperativa, in Vista Hermosa, accompanied by High Commissioner of Peace Sergio Jaramillo, the head of the UN Mission in Colombia, Jean Arnault, and FARC's chief negotiator in the peace talks in Cuba, Luciano Marin Arango.
Brende said he recognized the efforts of the government, the peace commissioner, President Juan Manuel Santos and FARC to end the more than 52-year-long war.
Koenders lauded all sides for working together and were committing to the peace process. He added that the Dutch government would continue to back the process from the international front.
Jaramillo acknowledged the contribution of Cuba and Norway, which acted as guarantor states, in the peace process, and the Netherlands' continued support.