Exhibition showcases textural works evoking the beauty and societal risks of today's growing urban environments
 Opens Friday, March 24, 2017 @ 6pm-8pm Opening Reception
San Francisco, CA — March 1, 2017 — The Mexican Museum announces the grand opening of Tramas Urbanas (Urban Patterns), an exhibition featuring the textural work of acclaimed Mexican visual artist Paloma Torres. The exhibition will run from Friday, Mar. 24, 2017 to May 28, 2017. The Mexican Museum is located at Fort Mason Center, Building D, Marina Boulevard and Buchanan Street, in San Francisco. The Opening Reception for the exhibition will be open to the public and held on March 24 from 6 p.m. to 8 p.m. Admission is free.
About Tramas Urbanas: Created by Torres over the last three years as part of the Sistema Nacional de Creadores de Arte (SNCA; National System of Art Creators), Tramas Urbanas is a visually provocative collection of abstract sculptures and handmade textiles based on a series of aerial photographs she took over Mexico City. As Torres looked down on the city, she noticed the absence of green spaces and the saturation of informal constructions. Her first mental image was that of a large rug placed over the mountains that surround the Valley of Mexico. Her images – from aerial portraits of irregular settlements that surround Mexico City to a sort of urban archaeology that discovers small objects that allow the megalopolis to function – became the inspiration for Tramas Urbanas, and captured a new reality of today's sprawling urban environments.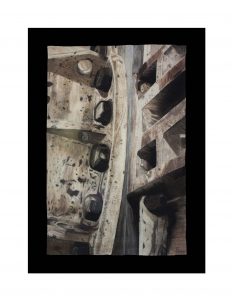 For the very elaborate techniques used for creating her felt textiles, Torres worked with purely natural elements, including fibers and wool from different regions of the world, as well as dyes based on those used in Mexico's pre-Hispanic cultures. In contrast to a vision of a world where everything is thrown out, Torres' work also involves leftover textiles and building materials, completing a meaningful cycle for her of using recycled materials. This blend has allowed her to realize that humanity is advancing thanks to the intersection of cultures. Subsequent diversity contributes to the growth of different societies, including contemporary Mexico City.
Tramas Urbanas is a collaborative project between The Mexican Museum and the Secretaría de Relaciones Exteriores de México (the Ministry of Foreign Affairs of Mexico), with the support of the Consulate General of Mexico in San Francisco. 
About Paloma Torres: Born in Mexico City in 1960, Paloma Torres Estrada has always focused her work on the urban landscape, especially Mexico City, including its constructive elements, the fast growth of cities, the loss of open space, and the serious consequences that this generates for a society. Torres received her Bachelor's Degree in Visual Arts from the National School of Visual Arts at the Universidad Nacional Autónoma de México (UNAM; National Autonomous University of Mexico). She also obtained a master's degree in color engraving from UNAM while working in the ceramic studio of the university.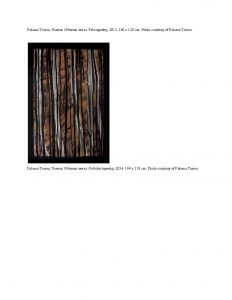 Torres' international art studies include learning color engraving at the Atelier 17 under S.W. Hayter in Paris, France, attending workshops on clay paper with Javier del Cueto and professional printing with Carlos García, and learning printing techniques on ceramics from Argentinian ceramic artist Graciela Olio. Torres has also been a resident artist of notable groups such as Artists on the Coast in Careyes, Jalisco, Mexico, the Cité Internationale des Arts in Paris, France, and work with René Derouin and Val David in Québec, Canada.
In addition to her individual exhibitions, Torres has participated in over 100 collective exhibitions, both in Mexico and abroad. Her work is currently featured in the collections of the de Young Museum of San Francisco and the Museo Universitario de Arte Contemporáneo (MUAC) at UNAM in Mexico City, Mexico. Additionally, Torres has been a professor of art history and graphic design at the Universidad Iberoamericana (UIA; Ibero-American University) in Mexico City. Part of the SNCA since 2000, Torres has been a member of the Arts & Letters Council of The Mexican Museum since 2013.
To continue the museum's free admission to exhibitions and education programming, people are encouraged to become new members by contacting The Mexican Museum at (415) 202-9700 or membership@mexicanmuseum.org, or by visiting the Museum website.
About The Mexican Museum: Founded by the well-known San Francisco artist Peter Rodriguez in 1975 in the heart of the Mission District, The Mexican Museum is located at Fort Mason Center. It is the realization of his vision to present the aesthetic expression of the Mexican and Mexican American people. Today, the museum's vision has expanded to include the full scope of the Mexican, Chicano, and Latino experience – including the arts, history, and heritage of their respective cultures.
In 2012, The Mexican Museum became an Affiliate of the Smithsonian Institution, the world's largest museum and research complex. The Museum joins over 200 organizations in 45 states, Puerto Rico and Panama that are in association with the Smithsonian. The Mexican Museum currently has a permanent collection of more than 16,500 objects reflecting Pre-Hispanic, Colonial, Popular, Modern and Contemporary Mexican, Chicano and Latin American art.
The Mexican Museum, open Thursday – Sunday from noon to 4 p.m., is located at Fort Mason Center, Building D, Marina Boulevard and Buchanan Street, in San Francisco. Admission is FREE. The Museum offers a wide variety of programs, including Family Sundays, exhibitions, special events, lectures, and public programming throughout the San Francisco Bay Area. For more information, please visit: http://www.mexicanmuseum.org or call (415) 202-9700.
The Mexican Museum has begun construction of its permanent home in the heart of the Yerba Buena Gardens Art District, which is expected to open in 2019. People are encouraged to support The Mexican Museum by becoming new members, or by joining the Builder's Society online or by mailing a check to: The Mexican Museum, Fort Mason Center, 2 Marina Boulevard, Building D, San Francisco, CA 94123. For more information on the Builder's Society, please contact Edgar De Sola at (41