Lima, Mar 6 (EFE).- Peru's anti-corruption prosecutor's office on Monday took new steps in the probe into the bribery scandal involving Brazil's Odebrecht construction company by asking the Attorney General's Office to investigate former President Alan Garcia and current President Pedro Pablo Kuczynski for alleged irregularities.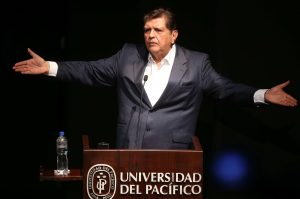 The state corruptio+n attorney for the Odebrecht case, Katherine Ampuero, confirmed at a Monday press conference the complaint against Garcia for allegedly taking bribes during his second administration (2006-2011) involving the construction of two stretches of the Lima Metro's Line 1.
"We've prepared a complaint … because we've collected enough convincing elements that support opening an investigation," Ampuero said.
The complaint includes former Transportation and Communications Minister Enrique Cornejo and the former CEO of the Lima Metro project, Oswaldo Plasencia.
Specifically, the first arrests in the Odebrecht bribery case in Peru were Deputy Communications Minister Jorge Cuba, former official Miguel Navarro and the former head of the bidding committee, Edwin Luyo, all of them for allegedly accepting $7 million in bribes in the Line 1 project.
Also, Ampuero asked Attorney General Pablo Sanchez to open "a preliminary investigation for allegedly suspicious operations and contributions by the Odebrecht Latinvest Peru company to Latin America Enterprise, which is supposedly linked to the president."
The request to investigate Kuczynski is based, according to what the daily Correo reported on the weekend, on an Intelligence Notice in which the president's name appears along with 69 other people whose bank accounts showed suspicious activity and a journalistic report confirming that deposits were made by Odebrecht to Latin America Enterprise.
The request is also based, Ampuero said – according to the daily – on the report by the Financial Intelligence Unit, which found Odebrecht contributed during last year's election campaign to assorted candidates, including Kuczynski.
After the press conference, Garcia said via his Twitter account that "they can investigate what they want. Thus it will be clear that other presidents took bribes, but not Alan Garcia."
The former president has lived in Spain since last year, although a few weeks ago he was in Lima to respond to questioning by the AG's Office about the contract the administration of his successor, Ollanta Humala, signed with Odebrecht in 2014 to build the Sur Peruano gas pipeline.
The Peruvian Comptroller's Office detected a loss to the state of $109 million on the Line 1 metro project.
Meanwhile, the Peruvian government rejected the request of the prosecutor's office for being based on press reports and suggested that corrections be made in preparing it again.
Odebrecht admitted in a US court that between 2005-2014 in Peru it paid $29 million in bribes to land public works projects.