Washington, Mar 9 (EFE).- The United States has deployed an additional 400 troops to Syria in preparation for an offensive against the Islamic State stronghold of Raqqa, the Pentagon said Thursday.
The troop deployment raises the US military profile in that country's civil war, Col. John Dorrian, the spokesman for the US mission against the IS in Iraq and Syria, said Thursday.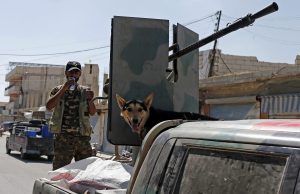 In a US Senate hearing, the head of the US Central Command, tasked with military operations in the Middle East, Gen. Joseph Votel, confirmed the deployment.
Votel told the Senate Armed Forces Committee that the deployment is being made to provide artillery support, perform advance operations and ensure that the momentum built up to date against the IS does not lose steam.
The deployment of Marines and Rangers in Syria raises to 500 the number of US special forces on the Arab nation's territory and constitutes the first increase in US military posture in that country since Donald Trump became president on Jan. 20.
The Pentagon provided Trump with options for accelerating the war against the IS and other terrorist groups that have taken advantage of the chaos caused by the Syrian civil war and instability in Iraq to occupy territory.
The new president's team is considering plans to take Raqqa, which has become the main IS bastion in Syria, while tensions are increasing amid the preparations for offensives with Turkish, Kurdish, Russian or Syrian regime troops, all of whom are competing for strategic positions.
The Marines in Syria are part of an expeditionary contingent that embarked on warships in October from San Diego and specialize in deploying artillery – specifically howitzers – to aid in intensive military land offensives.
In addition, a number of vehicles marked with US flags and belonging to the Rangers, the Army's elite force, have been seen near Manbij, a strategic point in Syria.
This kind of deployment shows that the US could be preparing to provide artillery covering fire to local allied forces in taking Raqqa, and to do that they would be stationed some 30 kilometers (about 18.5 miles) behind the front line.