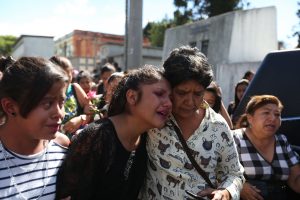 Guatemala City, Mar 10 (EFE).- Guatemala's president said Friday that the government bore partial responsibility for the deaths of 37 girls in a fire at a crowded state-run children's shelter but cautioned that the tragedy should not be labeled a state crime.

Jimmy Morales made his remarks at a press conference after visiting a hospital where some of the injured were being treated and a day after hundreds of people took to the street demanding his resignation.

Wednesday's blaze left 37 girls and female adolescents dead, while nearly a score of others are hospitalized, many with severe burns.

Based on the initial investigation, some of the adolescents themselves started the fire by setting a mattress on fire in a protest over alleged physical and sexual abuse at the Virgen de Asuncion shelter near Guatemala City.

"A state crime is not (a term) that should be used," Morales said. "We need to wait for the investigations."
Some witnesses said the fire occurred when a mattress was set on fire on Wednesday morning, just hours after a group of girls had attempted to escape Tuesday night and been locked inside a small room as punishment.

Morales called on the Guatemalan people to wait for the results of several investigations now under way.
The center, overseen by the Social Welfare Secretariat, has a total capacity of 400 but was housing 748 children of both genders, including orphans, victims of violence, criminal gang members and other offenders.

Immediately after the incident, the Guatemalan government dismissed the center's director.

Morales, who once again Friday questioned the decision to group children from a range of troubled backgrounds in one place, said the government should not be held solely responsibility, adding that the tragedy exposed the country's limitations and the need for thorough reform.