Lima, Mar 17 (EFE).- The Peruvian government is ready to devote 2.5 billion soles ($764 million) to the response to deadly flooding that has affected more than 62,000 people, President Pedro Pablo Kuczynski said Friday.
He told a press conference that he planned to enact an emergency decree more than doubling the budget for dealing with emergencies.
The flooding has resulted in 62 deaths, while 170 people have been injured and 11 others are listed as missing, the government said Friday in its latest bulletin.
The flood-response spending will come in addition to the $1.68 billion nationwide infrastructure plan he announced last week as an economic stimulus measure, the president said.
"We want to assure you … that we have the resources to confront" natural disasters, Economy Minister Alfredo Thorne said during the same press conference.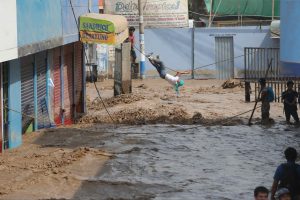 The rain-swollen Rimac River has burst its banks and submerged long stretches of the Central highway, the main link between Lima and the areas that ship food and other necessities to the capital.
Kuczynski said that his government will issue an emergency declaration freeing up money to expedite the establishment of alternate routes.
"We are facing a serious climatic problem that could not have been foreseen, and that has not occurred with this intensity since 1998," he said, referring to the intense El Niño that battered Peru nearly two decades ago.
Predicting that the emergency will pass in a matter of days, Kuczynski said the government is in much better shape financially than it was in 1998.
"And if the reconstruction costs more, we have the funds to do it," he said.
For the duration of the crisis, he urged Peruvians to put their safety first and be "extremely prudent."
"We must not have one more death," the president said.