Washington, Mar 18 (EFE).- Chuck Berry, one of the great icons and founders of rock and roll, from the time he released "Maybellene" in 1955, died Saturday at his home at age 90, according to the County Police Of St. Charles, in Missouri, USA.

In a message on their Facebook account, St. Charles County Police on the outskirts of St. Louis (Missouri) confirmed the death of Charles Edward Anderson Berry Sr.,"better known as legendary musician Chuck Berry."

Police responded to an emergency call from Berry's house, where they found the artist unconscious and "Unfortunately, the 90-year-old man could not be revived and was pronounced deceased at 1:26 pm."

The Berry family asked for privacy in this time of mourning.

On Oct. 18, 2016, on the day he turned 90, the guitarist and songwriter announced that he was going to release "Chuck," his first new album in 38 years after "Rock It ", which he published in 1979.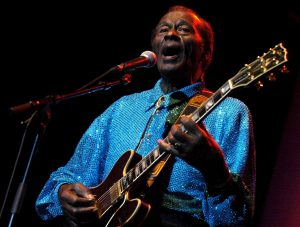 On this album, which he dedicated to his wife Themetta "Toddy" Berry, with whom he was married since 1948, he performs with his son Charles Berry Jr. (guitar) and his daughter Ingrid Berry (harmonica), as well as Jimmy Marsala Robert Lohr (piano) and Keith Robinson (drums).

Already in 2012, Berry revealed that he had a handful of songs written more than 20 years ago and that he intended to publish them on a new album.

The late artist was one of the founders of rock music with his song "Maybellene," released in 1955, and in his biography at the Rock and Roll Hall of Fame it reads: "After Elvis Presley, only Chuck Berry had more influence on the formation and development of rock and roll."

Berry influenced the early music of The Beatles, The Rolling Stones, and The Beach Boys. He was the author of such classics as "Johnny B. Goode," "Sweet Little Sixteen," "School Days," "Rock and Roll Music," and "Back in the USA."

Berry was one of the first to enter the Rock and Roll Hall of Fame in 1986, and among many other awards received a Grammy in 1984 in recognition of his career and a Kennedy Center award in 2000.