Washington, Mar 20 (EFE).- The FBI director confirmed Monday that his agency is investigating possible collusion between the United States President's campaign and the Russian government to influence the 2016 US presidential election.
During his opening statement at the first public hearing held in Congress on the matter, James Comey said he had received authorization from the Department of Justice to confirm that such an investigation was under way.
Comey told lawmakers that his agency is looking into the links between Donald Trump's campaign team and the Russian government, and whether there was any "coordination" of the Kremlin's activity vis-a-vis the US election and the magnate's campaign.
The FBI chief added that the investigation will also examine if any type of crime was committed regarding the leaking of e-mails stolen from the Democratic National Committee and Hillary Clinton's then-campaign manager, John Podesta.
Given the delicate nature of the investigation and the fact that it is currently in progress, for security reasons Comey was not able to publicly respond to many of the questions posed to him by lawmakers and he also warned that the leaking of certain documents could carry a 10-year prison sentence.
The top-ranking Democrat on the committee, Rep. Adam Schiff, said that it is still not definitively known if the Russians received the help of any US citizen in interfering in the election, including people associated with the Trump campaign.
Schiff said that many people in Trump's campaign, including the mogul, have links with Russia and with Russian interests, but that – in itself – is not a crime.
On the other hand, he said, if Trump's campaign or anyone associated with it helped or encouraged the Russians, that would not only be a serious crime but would constitute one of the most important betrayals in US history.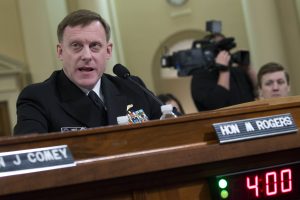 In other testimony, Comey told lawmakers that "We have no information to support" President Trump's Twitter claim that former President Barack Obama wiretapped Trump Tower before the election.
"We have no information to support those tweets," he added several times in response to various questions by lawmakers.
The National Security Agency director, Adm. Mike Rogers, who was also on hand to testify before the House committee, said in response to questions that he had no knowledge of anyone asking the British or any other ally to wiretap the GOP presidential nominee, thus refuting another claim made by Trump.
"I've seen nothing on the NSA side that we engaged in such activity nor that anyone engaged in such activity," Rogers said, going on to specifically deny having any evidence that British intelligence wiretapped Trump at the Obama's behest.