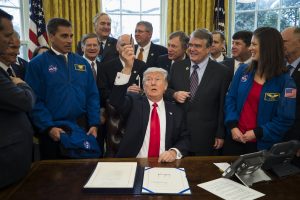 Washington, Mar 21 (EFE).- President Donald Trump on Tuesday signed a bill authorizing $19.5 billion in funding for NASA for the current fiscal year and set a target of sending humans to Mars by the 2030s.
Trump said he was "delighted" to sign the bill in the Oval Office, where he was accompanied by several congressmen promoting the measure, Vice President Mike Pence and NASA officials.
The bill reaffirms "our national commitment to the core mission of NASA," said Trump, adding that it is geared to guaranteeing that the most important programs at the US space agency will continue and that the country will remain a "leader" in space exploration.
The president specifically emphasized the importance of the transferring exploration activities to the private sector.
In 2011, NASA ended its space shuttle program and, since then, it has relied on Russia to carry US astronauts to the International Space Station.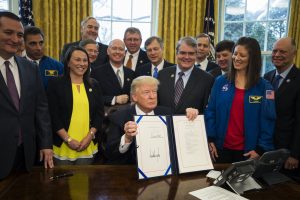 Currently, several private firms, including Boeing and SpaceX, are working to undertake crewed missions to ferry US astronauts to the ISS without having to depend on other countries to do so.
Trump also remarked that the law enacted on Tuesday supports NASA's deep space exploration efforts.
Specifically, the law sets forth the longer term objective of sending humans near or onto the surface of Mars during the 2030s.
Last October, then-President Barack Obama said that the country was on the right track in fostering government cooperation with private companies, and he set the goal of sending humans to Mars by the 2030s.
According to Trump, the new law is also designed to support the jobs of engineers and scientists, among others, and to provide monitoring and medical treatment for astronauts who develop health problems as a result of their service.
After signing the law, NASA officials presented Trump with an astronaut's jacket as a gift.