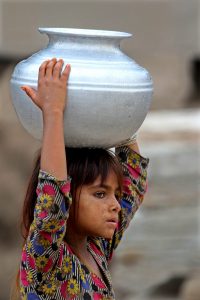 United Nations, Mar 22 (EFE).- Nearly 600 million children, one in four worldwide, will live in areas with extremely limited water resources by 2040, according to a report released late Tuesday by the United Nations International Children's Emergency Fund (UNICEF).
UNICEF warned of the threat to children's lives due to the lack of safe water and of how climate change is exacerbating the problem.
"Water is elemental; without it, nothing can grow. But around the world, millions of children lack access to safe water — endangering their lives, undermining their health, and jeopardizing their future," UNICEF Executive Director Anthony Lake said.
"This crisis will only grow unless we take collective action now," he insisted.
The report warns that population growth as well as increased consumption and demand are putting more and more stress on water availability, while right now such stress is already "extremely high" in 36 countries.
The situation occurs when demand for water far exceeds the renewable supply available, the report added, highlighting various factors affecting the quality and availability of water such as warmer temperatures, rising sea levels, melting ice and increasing droughts.
To date, 663 million people are lacking adequate access to water sources and more than 800 children under the age of five die every day from diarrhea linked to contaminated water and inadequate sanitation and hygiene.
According to UNICEF, the lack of an adequate supply exposes children to deadly diseases such as cholera and diarrhea and forces children in many places to spend hours every day to collect water, preventing them from going to school.
The report furthermore includes recommendations for different sectors and urges governments to plan for possible changes in water availability and demand over the coming years.
According to UNICEF, the priority must be to safeguard access to water for the most vulnerable children.