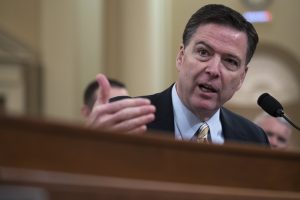 Washington DC, Mar 22 (EFE).- The FBI has obtained information indicating that associates of the United States president coordinated with suspected Russian operatives to damage the campaign of the Democratic candidate in last year's election, CNN reported Wednesday.
US officials, speaking on condition of anonymity, told CNN that communications between Donald Trump's inner circle and the suspected Russian operatives were possibly aimed at coordinating the release of information to damage Hillary Clinton's bid for the White House.
FBI Director James Comey appeared on Monday in Congress, where he confirmed that his agency was investigating the Kremlin's alleged interference in the US elections, as well as possible contact between Trump's inner circle and the Russians.
"That includes investigating the nature of any links of people associated with the Trump campaign and the Russian government and whether there was any coordination between the campaign and Russia's efforts," Comey said.
According to CNN, the FBI suspects that such coordination may have taken place, although the information was not conclusive.
The FBI is currently reviewing information, including human intelligence, travel and phone records, and meeting reports.
Asked by CNN, the White House declined to comment on this information, but had maintained on Monday there was no evidence of the alleged electoral plot between the Trump campaign and the Kremlin.
"Investigating it and having proof of it are two different things," White House press secretary Sean Spicer said.