Huarmey, Peru, Mar 22 (EFE).- Thousands of families left homeless and whole neighborhoods under water for a week are the norm in Huarmey, one of the towns hardest-hit by flooding in Peru, where some 100,000 people have lost their homes.
In this town of about 16,000, located some 300 kilometers (186 miles) north of Lima, practically everyone has been affected in some way by the unprecedented flooding caused by the overflowing of the Huarmey River, which has wiped out virtually all the homes here, left the town without electricity or potable water and buried vehicles under the mud.
Those most affected by the disaster are in the El Progreso neighborhood, and the humble working residents are sleeping outdoors because their homes are flooded with at least half a meter (about 1.6 feet) of water and are in danger of collapsing.
Some people are moving around the area in improvised boats, but many are just wading through the odiferous waters, where waste of all sorts from the sewage system is floating, walking over the uneven and muddy ground beneath.
"We need an electric pump to remove the water. We can't let it get even more foul. There's a strong and nauseating stench because the sewage system has collapsed and has contaminated the water," Gloria Salvador, a local resident indignant at the virtually nonexistent help provided so far by the authorities, told EFE.
She said that they have barely received any rice at all, and she demanded bedding and tents to live in until they can return to their homes, along with medical attention for the children, given that some have developed skin rashes due to coming in contact with the contaminated water and getting multiple mosquito bites.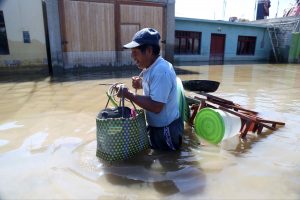 The townspeople watch in frustration as a military helicopter passes overhead bringing aid to other places, while they are still waiting.
A navy boat arrived in Huarmey last weekend with about 30 tons of aid, but the government is distributing it at the local stadium to the entire Ancash region, and there is not enough to supply everyone who has been affected.
"We've practically been abandoned. Sometimes all the aid goes to the center and not to the outskirts," Teodosio Castro, a day worker whose house stands before a little flooded park, told EFE.
"My house is almost in ruins. I'll have to knock it down to be able to live here again," he said between sobs and standing in waist-high water, while looking over his property to be sure that nobody has entered during the previous night to steal what little he has.
David Chaupe had better luck – his home just missed being inundated by the floodwaters, but now he complained to EFE that he has no job and the price of food has skyrocketed.
Transportation costs have also risen, preventing many residents from going to the stadium to stand in long lines for hours hoping to get some of the scanty government aid.
The catastrophe in Huarmey is just one example of the devastation wrought by the flooding, which since December has killed 78 people, injured 264, left 20 people missing, destroyed the homes of more than 100,000 and affected a total of 640,000.