December 18, 1991
By Yolanda Reynolds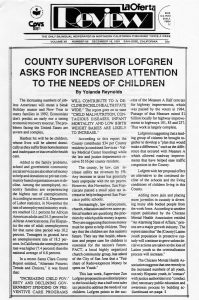 The increasing numbers of jobless Americans will mean a bleak Holiday season and New Year to many families in 1992. Economists don't predict an early nor a strong economic recovery to occur. The problems facing the United States are severe and complex.
Hardest hit will be children, whose lives will be altered drastically as they suffer from homelessness and inadequate or inaccessible health care.
Added to the family problems, school and government community social services are also short of money to help and donations to private community based organizations are in decline. Among the unemployed, minority families are experiencing the highest rate of unemployment. According to recent U.S. Department of Labor statistics, in November the rate of unemployed minority workers reached 12.1 percent for African American adults and 34.3 percent for African American teens. For Hispanics, the rate of adult unemployment for that same time period was 10.2 percent. Teenagers in general have an unemployment rate of 18.5 percent. In California, the unemployment rate was higher (7.4 percent) than the national average of 6.8 percent.
In a recent Santa Clara County Report entitled, "Alternate Futures; Trends and Choices," it was found that:
"INCREASING CHILD POVERTY AND DECLINING GOVERNMENT SPENDING ON PREVENTIVE CARE PROGRAMS WILL CONTRIBUTE TO A DECLINE IN CHILD HEALTH STATE WIDE." The report goes on to state "CHILD MALNUTRITION, CONTAGIOUS DISEASES, INFANT MORTALITY AND LOW BIRTH WEIGHT BABIES ARE LIKELY TO INCREASE."
According to this report the County contributes $34 per County resident (a combined Services – Valley Medical Center founding) while the law and justice departments receive $116 per county resident.
The county, by law, can increase utility tax revenues by 5%. Any increase in taxes has generally been unpopular with the tax payers. However, this November, San Franciscans passed a small sales tax increase to help beleaguered San Francisco public schools.
Increasingly, law enforcement, church, education and even some political leaders are questioning the priorities by which public money is spent. They are suggesting that more money must be spent to help children. They say that the children are this nation's future. They say that health, education and proper care for children is essential for the nation's future. PACT, a local highly organized church community group, has asked of the City of San Jose that a "Fair share of Redevelopment Money be spent on Youth."
This last week. Supervisor Zoe Lofgren proposed in an editorial piece to the local daily that half cent sales tax passed to address the needs of our children. Lofgren points to the success of the Measure A Half cent tax for highway improvements, which was passed by the voters in 1984. Passage of that Measure raised $1 billion locally for highway improvements to highways 101, 85 and 237. That work is largely complete.
Lofgren is suggesting that a leading group of citizens be brought together to develop a "plan that would make a difference," such as the difference that occurred with Measure A which allowed roadway improvements that have helped ease traffic congestion in the County.
Lofgren with her proposal offers an alternative to the continued decline of the schools and the living conditions of children living in this County.
Adding more jails and placing more juveniles in custody is diverting many able bodied people from the work force. According to another report published by the Chicano Mental Health Association entitled "An Alarming State of Affairs," prisons are a major growth industry. The report states that "the (County) Latino youth population in protective custody will continue to grow unless decisive actions are taken so the loss of Latino youth to the criminalization process will increase."
The Chicano Mental Health Association suggests that one remedy to the increased numbers of all youth, not only Hispanic youth, in "contact" with justice authorities is to "conduct (the) necessary public education and awareness process by building activities with public, appointed and elected officials, the media, the business sector and the Hispanic and general community at large. The report states that "THE PRESENT STAGE OF APATHY MUST BE REPLACED WITH A SENSE OF URGENCY IN ADDRESSING THIS CRITICAL PROBLEM."
More not less money and support must be given to the youth and those support services they need for their education. According to the County report, "increasing competition in the world economy will cause Silicon Valley firms to demand workers with higher levels of education to perform research and development activities.
According to recent research, "for every dollar spent on pre-school education for children from disadvantaged homes, communities save between $3 to 54 dollars in special education, criminal justice and welfare costs.
Support for the less advantaged, which including more and more Californians, is warning. The Governor of California has proposed major changes in the State's welfare policy which will be offered to the voters for their approval. There is much controversy over the Governor's plan and its intent which is to pay the poor less and ask them to do more. It will also reduce the amount of aid to families who move to California from another states. California pays higher welfare stipends than that paid in other states. Advocates for the poor say that, until recently, poor people were attracted to the state because "California was Recession proof," not because of its welfare benefits.
It is just recently that business and political leaders are admitting that California is not immune to the recession that the nation is experiencing and that this state is also in trouble.
Access to medical care, an import element for any family, has decreased in California. According to Chronicle writer, Sabin Russell; since 1982, medical support for indigent care has fallen $1.1 billion while patient numbers increased in the state's county hospitals front 9.3 percent to 11.8 percent. State money to county hospitals has decreased to the point that only 59 percent of the actual costs are paid by the state for the needs of indigent care.
If you wish more information on the conditions and possible solutions to the community service needs of children and their families contact Santa Clara County Board Supervisor Zoe Lofgren at 299-2323. © La Oferta Publication.