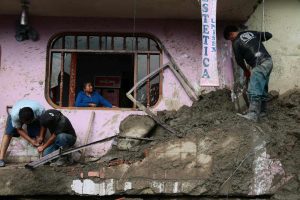 Lima, Mar 29 (EFE).- Some 2,000 corpses from the Mampuesto cemetery in the Peruvian city of Trujillo were swept away by the landslides that occurred last week due to heavy rain, regional authorities said Wednesday.
"It is estimated that over 6,000 bodies were buried in the area," El Rodriguez, mayor of the El Porvenir district, said to local newspaper El Comercio.
The mayor also said that nine landslides caused by the overflow of the San Ildefonso creek passed through the cemetery and dragged away about 2,000 corpses.
Crosses and tombstones, broken and covered with mud, were seen lying in various areas of the city of Trujillo.
Governor Luis Valdez announced that the bodies will be transferred to the Jardines de la Paz cemetery. The operating license of Mampuesto Cemetery will also be suspended.
Rodriguez added that the area affected by the incident will be cleaned to protect people from bacterial illness.
In addition to 1,344 houses destroyed and 7,744 people affected by the damage, the rains and floods caused by El Nino have killed 13 people in La Libertad region, of which the capital city is Trujillo. The death toll has come to 97 and thousands of people have been made homeless.