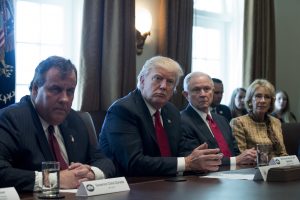 Washington, Mar 29 (EFE).- President Donald Trump on Wednesday announced the creation of a commission to seek solutions to the increase in deaths from addiction to heroin and opiates, a situation he called a "total epidemic" and one of the "biggest problems" that the US has at present.
"This is a total epidemic and I think it's probably, almost un-talked about compared to the severity that we're witnessing," said Trump at a White House meeting including members of his Cabinet, recovering addicts and experts in the anti-drug fight.
"We want to help those who have become so badly addicted. Drug abuse has become a crippling problem throughout the United States," said the president.
Released in February, the latest figures from the US Centers for Disease Control about the increase in overdose deaths are of great concern to many.
Slightly over 38,000 people died in 2010 from drug overdoses, but more than 52,000 died in 2015, of whom at least one-quarter were from heroin consumption, triple the number of deaths from that cause five years earlier.
The group experiencing the most overdose deaths in 2015 were whites between the ages of 45 and 54, according to the CDC statistics.
At his daily press briefing, White House Press Secretary Sean Spicer said that Wednesday's meeting and the creation of the commission – to be headed by New Jersey Gov. Chris Christie – are the "first step" toward trying to find the best ways to deal with the epidemic.
Spicer said that efforts must focus, on one hand, on prevention and dissuading young people from being attracted to drugs, and on the other, on helping addicts enter treatment centers and find employment once they have recovered.
"This issue causes enormous pain and destruction to everyday families in every state in this country," said Christie, who was present at the meeting and was one of the first to support Trump after withdrawing from the Republican presidential primary process.
Christie said that many addicts are ashamed and afraid of speaking up about their problem and getting help.
As part of his anti-drug strategy, Trump is defending the construction of the controversial wall along the border with Mexico and increasing deportations to expel drug traffickers and criminals.
In a report released in early March, the State Department said that between 90 percent and 94 percent of the heroin consumed in the US comes from Mexico.