Los Angeles, USA, Apr 6 (EFE).- Twitter filed a federal lawsuit against the United States government on Thursday after it demanded that the social networking company unmask an account opposed to the president's tough immigration policies.
Twitter filed the lawsuit against the Department of Homeland Security (DHS) and the Office of Customs and Border Protection (CBP) in a San Francisco federal court, urging the government to respect freedom of expression.
The legal dispute stems from the twitter account @ALT_USCIS, which was allegedly created and administered by current or former employees of the US Citizenship and Immigration Services (USCIS), who claim to provide information dissenting from Donald Trump's policies and ideas.
@ALT_USCIS defines itself as an "immigration resistance" and "altgov", a term which refers to "alternative government".
@ALT_USCIS has frequently criticized the immigration policies of the new administration, highlighting what the user views as a history of waste and mismanagement within USCIS and DHS, and has publicized facts that the account's users portray as casting doubt on administration policies, Twitter said in the suit.
Following the information exposed by the controversial account, the US government sent an administrative order to Twitter on Mar. 14, asking the company to reveal the identity of the @ALT_USCIS user or disclose any relevant information.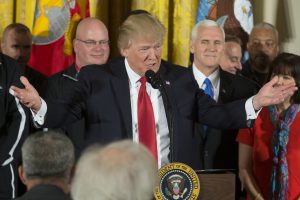 But Twitter maintains that anonymous users have the right to freedom of expression.
"In these circumstances, Defendants may not compel Twitter to disclose information regarding the real identities of these users without first demonstrating that some criminal or civil offense has been committed," the company said.
Twitter also stated that following Trump's inauguration in January, several accounts like @ALT_USCIS were created and used as platforms to disclose information about various government agencies.
The profiles of these accounts usually look like the official profiles of the agencies they criticize, although they specify in their description boxes that they are critical of the government, not aligned with it.
The American Civil Liberties Union (ACLU) said through its Twitter account on Thursday that the organization will defend the @ALT_USCIS user's right to freedom of expression in court and praised Twitter for rejecting the government's order.