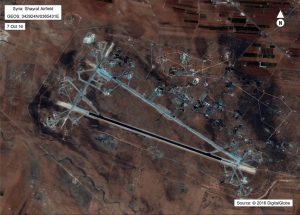 Washington DC, Apr 6 (EFE).- The United States launched dozens of cruise missiles on Thursday into Syria, in the first direct military action by the US against President Bashar al-Assad's regime since the civil war began.
The strike came in response to a chemical weapons attack that struck a town in northern Syria on Tuesday.
The US fired dozens of Tomahawk missiles at the Shayrat air base in the Syrian city of Homs, from which the aircraft that carried out the chemical strikes took off.
US President Donald Trump confirmed that he ordered the unilateral military action against the Syrian government in response to Tuesday's attack.
"It is in this vital national security interest of the United States to prevent and deter the spread and use of deadly chemical weapons," he said.
The US president also called on "all civilized nations" to work to end the "slaughter and bloodshed" in Syria.
Just minutes before the missile attack, Russia warned the United States of the "negative consequences" of military strikes on Syria.
"We have to think about negative consequences, negative consequences, and all the responsibility if military action occurred will be on shoulders of those who initiated such doubtful and tragic enterprise," Russia's deputy ambassador to the United Nations, Vladimir Safronkov, told reporters.
Members of the UN Security Council are still negotiating a resolution in response to the chemical attack.
The US ambassador to the council, Nikki Haley, had already warned in the previous meeting that Washington could initiate a unilateral strike on Syria if the UN still refrained from taking military action.
Thursday's attack marked Trump's first military order since his inauguration in January, as other US military operations in Syria, Yemen and Iraq were carried out under the authority of his commanders.