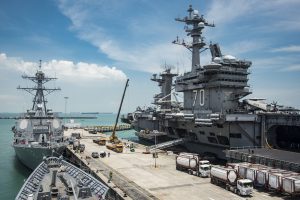 Washington, Apr 8 (EFE).- The United States has ordered the aircraft carrier USS Carl Vinson and its strike force towards waters near North Korea, as a show of force against the military provocations of the Kim Jong-un-led regime.
Pentagon sources said Saturday on CNN that US Pacific Command chief Admiral Harry B. Harris Jr. has ordered the Nimitz-class supercarrier and all its support ships towards the Korean peninsula.
The USS Carl Vinson – controlled by the US Third Fleet in the Pacific ocean – suspended a scheduled visit to Australia and, after leaving Singapore, turned towards the Korean peninsula, where it was already deployed a month ago, to participate in the annual military exercises with South Korea.
Defense sources said that the deployment is in response to the new military developments of North Korea, which recently carried out several medium-range ballistic missile tests and also test firings of new missile engines.
It is not uncommon for the US to deploy a nuclear powered aircraft carrier to areas as a sign of strength during a crisis.
The strike group's change of route comes just after US President Donald Trump, met with his Chinese counterpart Xi Jinping in Florida this week to discuss the need to stop the military advancements of Pyongyang.