January 11, 1992
By Yolanda Reynolds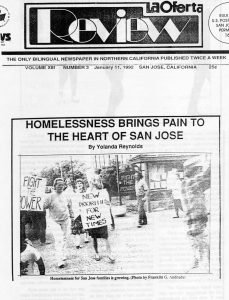 Chanting "What we want… is housing now!", homeless and housing advocates marched from the steps of the San Jose City hall to the Isaac New Center chambers in the County building, to testify before the Housing Commission for the City of San Jose.
The Commission was holding a public hearing Thursday evening for comments to the City's proposed Comprehensive Housing Affordability Strategy (CHAS). The federal government requires such a hearing process and plan development under the Cranston-Gonzales National Affordable Housing Act.
Low and very low income housing throughout the nation is scarce. San Jose is no exception, the situation here is, in fact, considerably worse than the average. The most striking fact about Thursday evening's meeting was that so many of the homeless at the Commission hearing work every day – at minimum wage jobs. Their income is so low that they cannot even afford a room.
Even more sad is the fact that entire families are homeless for this and other reasons. Juan Carrillo, his wife Alejandra and their two children find themselves homeless because he was laid off from his job as an upholsterer. Though he was recalled to work, their problem now is that they must now leave the shelter (they have spent their allocated time) and he has not worked long enough to be able to pay the first and last month charges and the security deposit for an apartment- so they expect to be thrust unto the streets again. With small children that is a very difficult and dangerous situation.
They were not the only family, there were others, many others: Claudia and her two children, aged one and two, Cecilia de la Mora and her three-month-old; Lupe who has seven children, one of whom is very ill and lives separately from the family because of the baby's medical needs.
Cecilia's husband works full time as a janitor but his salary is so low that even though he works every day, eight hours a day, there is still not enough money for an apartment.
Lupe's husband is unemployed – both Lupe and her husband work in the fields, but this year the work was scarce and what work they did find paid very low wages.
There were other young people who came forward – students – who after paying their rent, have no money, so they must eat where meals are served free. One student, who volunteers to help others and is herself very needy, said that, recently, the lines for food have become so long that an hour passed before she was served.
Emotions ran high. Repeatedly, the City's priorities were criticized. One speaker, Mr. Kurtland. a homeless advocate drew loud cheers when he said "tell the politician we will turn down their stadium until they build more housing."
Another speaker, Alberto Verdugo, pointed out that the City's commitment to funding expensive hotels, the arena and a proposed stadium, among other frills, was "obscene in view of the very real suffering that many people are now experiencing for lack of affordable housing." Housing is supposed to be a major purpose of the development, but it has received little attention from the Redevelopment Agency staff of Board.
There was much criticism, of the City's policy of excluding low and very low income housing from certain sections of the City, in particular excluding it from downtown San Jose. Several speakers pointed out that downtown was where there was a special need for Single Room Occupancy (SRO) units to house the low paid employees that work in that area.
The Commission heard some very specific suggestions for improvements of their plan. It was evident that many in the audience had spent hours thoroughly reviewing the plan. Though there was approval for the proposed housing, it was clear that most people at the hearings felt that the 5,000 units planned over the next 5 years will be woefully inadequate number and that additional units are needed, if, the City is serious about meeting the housing needs that actually exist in San Jose.
Various spokespersons cited the convincing figures that indicate that the City needs to build at least 13,000 units in order to meet the low and very low income housing needs for its people in the five years.
Scott Wager, president of the Student Homeless Alliance, best summed up the evening when he said "the pain of the homeless cannot be captured in words or paper… it is now a matter of life and death."
There are estimates that there are approximately 19,000 homeless in San Jose. It is expected that number will grow dramatically if the California legislature cuts welfare by 35% – as the governor and many others propose to do, in order to balance the State's budget.
A speaker, San Perry, asked the Commission members if they remembered Michael Ortiz, Louis Rockwell, Francis Rodriguez, a Mr. Lopez, and the story of Mona Garcia. All except Mona died in San Jose because of homelessness. Perry pointed out that Mona, who was living in her car, was raped. Her child, who was with her, was thrown out onto the sidewalk where the child landed on his head. The child was permanently brain damaged as a consequence.
One speaker, a woman, reminded the Commission that a real count of the homeless has not been made, because many women who live in their cars refrain from telling anyone, even their friends, about their homelessness – for fear of losing their children.
Many say that the real test of San Jose's greatness will be revealed by how well it meets the needs of all of its community. A speaker, Jessie Dominguez, said "It is people – not bricks and mortar that make the city great," he compared San Jose to a billboard that is very large, shiny and brightly painted, but below and behind the billboard can be found grime and filth.
The San Jose City Council will have a final Heating regarding its Comprehensive Housing Affordability Strategy at 7 pm. in the San Jose City Council Chambers at 801 North First Street January 21. © La Oferta Publications.