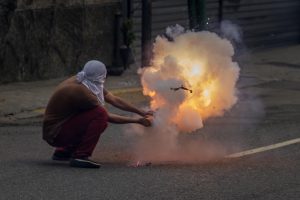 Caracas, April 10 (EFE).- Venezuelan opposition congressman Jose Manuel Olivares said that more than 200 people were injured in the anti-government demonstrations in several states across the country on Monday, and that they are still counting the numbers of those arrested.

"Regarding the injured, we are talking about more than 200 people injured by buckshot, by bruises (…) in several states across the country," Olivares said at a press conference.

Olivares also said that Monday's demonstrations saw "the saddest, shameful, cruel and vile face of dictatorship and repression," stressing that "they irresponsibly filled a health center with tear gas."

Shortly before his statement two Venezuelan mayors opposed to the Nicolas Maduro government reported that a total of 57 people injured during the clash between police forces and the anti-government protesters in Caracas have been hospitalized in the hospitals of their localities.

The mayor of Baruta, Gerardo Blyde, told the television channel Globovision that in his jurisdiction 45 people have been hospitalized due to "suffocation as a result of tear gas and also with some injuries."

For his part, the mayor of Chaco, Ramon Muchacho, said on his Twitter account that health centers under his jurisdiction had admitted "12 injured from today's demonstration."

Demonstrations in Caracas and in several other cities across Venezuela during the last two weeks have left hundreds injured and arrested, among the injured were also security forces.

The Venezuelan opposition has called for these protests to support the removal of seven judges and to call for new elections, after the governor elections were suspended in 2016.