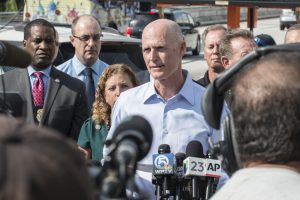 Miami, Apr 11 (efe-epa).- Florida Gov. Rick Scott on Tuesday declared a state of emergency in the state due to the existence of more than 100 forest fires that have already consumed more than 20,000 hectares (50,000 acres) in areas where little rain has fallen.
The governor's order authorizes the head of Florida's Division of Emergency Management to activate the comprehensive emergency plan to deal with the threat posed by the fires, while simultaneously requiring federal assistance and mobilizing the Florida National Guard.
"Much of central and South Florida are approaching drought-like conditions, and the chances for wildfires are continuing to increase with hotter temperatures and low rainfall," Scott said in a statement.
"This may only get worse as we enter the hotter summer months, and it is crucial that we take every action right now to be prepared," he added.
The governor expressed his concern over the wave of 107 forest fires that have beset the state, including the one that broke out last week in southwestern Broward County and destroyed 7,000 acres.
According to Florida Agriculture Commissioner Adam Putnam, this year's fire season is the most active since 2011.
Scott warned that it is vitally important that the response to the fires be rapid, adding that declaring a state of emergency will make it easier for local, regional and state entities to quickly make decisions "to protect our families, visitors and communities."
Other Florida counties affected by the forest fires include central Polk County, where 5,000 acres have burned and a dozen homes destroyed; Collier County, on the southwest coast, with 7,000 acres burned; and Hernando County on the west coast, where 1,100 acres have burned.