Montevideo, Apr 11 (EFE).- A total of 607 people have been evacuated due to flooding affecting the northern Uruguayan province of Artigas, where 23 people were rescued after being stranded due to rising water, the National Emergencies System (Sinae) reported Tuesday.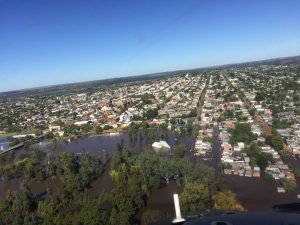 According to figures compiled by the Artigas Provincial Emergency Coordinating Center (CECOED) and released by Sinae on Twitter, "so far there are 607 people displaced from their homes: 147 families, 242 minors and 365 adults."
Sinae chief Juan Andres Roballo said that authorities are expecting the Cuareim River in northeastern Uruguay to begin receding in the next few days, according to a statement issued by the President's Office.
In addition, he said that authorities are evaluating the structural integrity of the evacuees' homes, including the electrical wiring and hygiene facilities, to prevent issues that could put the public at risk when they return.
Roballo also said that in the neighboring province of Rivera, which has also been heavily affected by the rains, 331 people who had been evacuated have begun returning to their homes because the weather outlook and the safety of their residences allow it.
The Uruguayan Meteorology Institute (Inumet) has not issued any weather alert for Tuesday for the affected zones.
However, Inumet is keeping a yellow alert in place for southern Uruguay due to moderate winds between 30 and 50 kilometers (19 and 31 miles) per hour, with heavier gusts along the coast in Maldonado and Rocha provinces.
In addition, the institute said that possible downpours are still in the forecast for the region and the alert will remain in effect until 6 pm.