February 12, 1992
By Yolanda Reynolds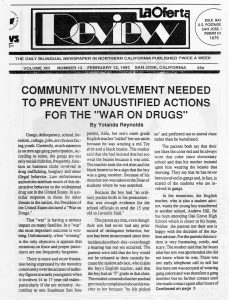 Gangs, delinquency, school, boredom, college jobs, are choices facing youth. Currently, much attention is on teen age gang participation. According to some, the gangs are not only social clubs but, frequently, function as business clubs involved in drug trafficking, burglary and other illegal behavior. Law enforcement authorities attribute much of this destructive behavior to the widespread drug use in the United States. In a similar response to those for other threats to the nation, the President of the United States declared a "War on Drugs."
That "war" is having a serious impact on many families. In a "war" most important outcome is winning. Unfortunately, when "winning" is the only objective it appears that restraints on force and proper procedures are too frequently forgotten.
There is more and more frustration being expressed by the minority community over the actions of authority figures towards youngsters when it involves 14 to 17-year-old males – particularly if they are minority. According to one Southeast San Jose parent. Aida. her son's ninth grade English teacher "called" her son aside because he was wearing a red Tee shirt and a black beanie. The mother said that she had insisted that her son wear the beanie because it was cold. The teacher took the red shirt and the black beanie to be a sign that the boy was a gang member. Because of his dress her son was taken to the Dean of students where he was searched.
Because the boy had "an ordinary pocket knife in his possession – that was enough evidence for the school officials to send the 15 year old to Juvenile Hall."
The parent say that, even though their son had never had any prior record of delinquent behavior, her son has been incarcerated since the incident described – this-even though a hearing has not yet occurred. The parents were told that the boy would not be released to their custody because the student advisor, who is also the boy's English teacher, said that the boy had an "F" grade in that class. 'The mother contends that her son had previously complained about this teacher to her because "he felt picked on" and preferred not to attend class rather than be humiliated.
The parents both say that their son likes the color red and he always worn that color since elementary school and that his mother insisted upon him wearing the beanie that morning. They say that he has never been involved in gangs and, in fact, is scared of the students who are involved in gangs.
In the meantime, the English teacher, who is also a student advisor, wants the young boy transferred to another school, Andrew Hill. He has been attending Oak Grove High School which is closer to his home. Neither the parents not their son is happy with the decision of the student advisor. For the parents this incident is very frustrating, costly, and scary. The mother said that for hours after her son was apprehended she did not know where he was. There was one early telephone call to tell her that her son was accused of wearing gang colors and was therefore a gang member but no further contact until she made contact again after hours of waiting fora promised follow-up call. Their son is still in Juvenile Hall and does not want to go to Andrew Hill School, a rival school. The parents feel that their son has been unfairly accused and, worse yet, held in Juvenile Hall when. in fact, they contend that their son had done nothing wrong other than a wear a red shirt and carry a small pocket knife.
The parents are quite confused over the fact that their son is not doing well in his English class because, until this year, their son has always earned passing or better grades in all of his classes. They are also concerned about the interaction between their son, and his teacher advisor, about whom their son has long complained. Since the situation between their son and the English teacher has become so grave the parents have asked to speak to the principal about their son's situation and feelings.
The parents feel as if caught in a vise. They have sought legal assistance, which they are told will cost them $2500. That amount seems small when a person thinks of the dangers to which children are exposed in Juvenile Hall, plus the effects of a damaged self-image. The parents don't want their son to learn to disrespect authority figures nor do they want him to feel that he now really is a gang member because he has been accused of being one.
In these times of low employment and severe recession, added to the high cost of living in the valley, $2500 is not a sum of money most families have available – even to help in such a serious matter.
Other families have faced such dilemmas. Just recently, another family living in the East Side of San Jose had the misfortune that their son had a serious life threatening encounter with a San Jose police officer. In that instance, their son, also 15, was beaten by an officer with a baton in front of his home. The boy and his friends had gone to a nearby Taco stand. Though the young man was eventually returned to the custody of his parents, it was only after the family incurred a huge legal debt.
In San lose a group of community leaders have come together to found the "Ram Victims Fund." to help with a number of fund raising activities but $3 and $8 thousand dollar debts take many hours of work to pay off. This group would like to be able to help many others in similar situations – they have had many appeals for help. Years ago, there was legal assistance for needy families – such legal assistance is greatly needed now. Not only would such legal help assist the unfairly treated, it would also help deter the use of excessive force or abuse of authority from occurring – a problem that can also lead to a breakdown of society.
Communities in other places are also getting together for the express purpose of helping victims of the legal system. In East Los Angeles a group, "Poder," was for formed because they believe that "police brutality in Latino and African-American communities is in the news because it is getting worse (and) not only because of the Rodney King case."
Poder says that in 1991 from October 1 to September 30 in LA County alone, there were 57 persons shot by the police of whom 27 died. Of those persons shot, 80% were minority – mostly Latinos and African Americans. Poder is seeking an independent investigation of the Los Angeles County Sheriffs Department. They feel that only then will the department implement much needed reforms of the department.
Another group in Los Angeles, the David Angel Ortiz Justice Committee is protesting the killing of a 15-year-old, David Angel Ortiz, who, on August t23, 1991 was shot in the back twice. Ortiz was suspected of driving a stolen car.
Poder says that even though the LA sheriffs department has lost millions in excessive force law suits the errant sheriffs deputies are still on duty. Poder says that just hiring Chicano police is not necessarily the answer for achieving reform. They feel that, "the Ortiz killing serves notice that Chicano police can also be guilty of abuse." Poder says that, "only community control and accountability of these public institutions in Latino communities (will assure) that the abuse will stop."
Poder also says that in Boyle Heights, another Los Angeles Barrio, every kid living there is considered to be a gang member. According to Poder, the Police, under various pretexts, took pictures of young" people and then prepared a "mug book." Later the police used such a photo to accuse a 15-year-old boy on murder charges. He was a suspect because he was wearing a black jacket "which made him a gang member." According to Poder, even though the youth had excellent reports from his teacher, relatives and neighbors, the judge accepted the world of a surviving victims who picked this boy out as the murderer from the LAPS mug book.
In San lose, one neighborhood is taking a proactive position on curbing gangs and gang related activity. The Jackson Taylor Neighborhood Association, along with the Grant School parents and administration has scheduled a community meeting to discuss ways to prevent gangs and gang activity. The meeting is scheduled for Thursday, February 22nd, 5:30 p.m. at Grant school. Chief Louis Covarrubias is scheduled to meet with the community. He has repeatedly said that he wants the parents and the neighborhoods both involved in a arriving at effective safety programs for the neighborhoods and the community.
Freida Graham, one long time Jackson/Taylor Neighborhood leader, says that their group wants to stress prevention and to get city agencies and law enforcement to work closely with the neighborhood in order to get to the root of the problems in the Jackson/Taylor neighborhood; particularly in the prevention, of gang activity, drug abuse and school delinquency.
The neighborhood, Bakesto Park, which is within the Jackson Neighborhood, has been described by its neighbors as a place where young rowdy people congregate. Last year PACT (People Acting in Community Together) asked for city and police assistance in making that park a safe place for families and their children.
Hopefully, these and other similar neighborhood meetings will result in changes and programs offering more positive activities to the young. Chief Covarrubias has said that the gang problem can only be resolved with the aid of far more cooperation among the various social services, parents, city leaders and law enforcement.
Certainly our neighborhoods need to be freed from the fear and suffering engendered by distinctive behavior. However, it is not acceptable for law enforcement to use extra-legal force, methods and procedures, even for such a purpose. In a society based on law – the law must be maintained by legal means with respect for the civil rights of its citizens.
If you are interested in more information about the Jackson/Taylor Neighborhood — San Jose Police Chief Covarrubias meeting contact Freida Graham at 292-3618 or the Giant Elementary School at 998-6221. © La Oferta Publication.