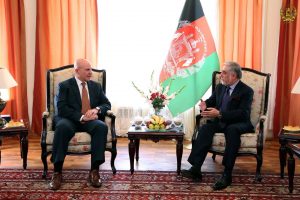 Washington, Apr 16 (EFE).- The United States is working with its international allies and with the Chinese government to prepare "a range of options" on North Korea and there is consensus that the increasingly tense situation vis-a-vis Pyongyang is something "that just can't continue," National Security Adviser H.R. McMaster said Sunday.
McMaster spoke on the subject to ABC News from Kabul, where he arrived on Saturday to discuss that country's security issues, saying that "this latest missile test just fits into a pattern of provocative and destabilizing and threatening behavior on the part of the North Korean regime."
"I think there's an international consensus now … including the … Chinese leadership, that this is a situation that just can't continue," McMaster said.
President Donald Trump "has made clear that he will not accept the United States and its allies and partners in the region being under threat from this hostile regime with nuclear weapons," he added.
"We're working together with our allies and partners and with the Chinese leadership to develop a range of options … so we can … have them ready for (Trump) if this pattern of destabilizing behavior continues," McMaster said.
He went on to say that "all options" are on the table, adding that North Korea is very vulnerable to pressure from Beijing, given that 80 percent of its trade is with China
"Our president will take action that is in the best interest of the American people," he said.
Regarding the failed launch on Saturday of a North Korean missile, McMaster said that the US did not want to telegraph precisely what it might do in response to certain incidents, adding that it is nevertheless clear that Trump is determined not to allow North Korea to threaten the US with its nuclear weapons.
Trump made a number of Twitter posts on Sunday morning but he never referred directly to the failed North Korean missile launch announced on Saturday by the South Korean Defense Ministry and confirmed by the Pentagon.