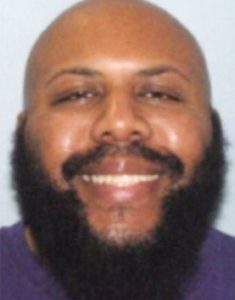 Washington, April 16 (EFE) .- Steve Stephens, a man who broadcast live on Facebook the moment he murdered an old man in Cleveland, Ohio, USA, is still at large, according to a statement released during a press conference by local authorities on Sunday.
Calvin Williams, a spokesperson for the Cleveland Police, said they have only confirmed the murder which was streamed live on Facebook and that there is still no confirmation on other alleged murders that the suspect claimed to have committed during another Facebook-live session.
Williams has demanded that the suspect, identified as Steve Stephens, turns himself in, confirming that Stephens chose the victim at random.
Police in Cleveland are keeping a close eye on Stephens, who is described as a bearded bald man with a blue striped T-shirt and a white vehicle, as seen in the online video.
According to CNN, the Federal Bureau of Investigation (FBI) is now collaborating with local police in the investigations of the case.
In the video, which was later removed by Facebook, Stephens was in his car, saying "Found me somebody I'm going to kill, this guy right here, this old dude."
He then got out of the vehicle and told the man to say the name "Joy Lane" because "She's the reason this is about to happen to you."
The victim tried to explain that he did not know what Stephens was talking about, to which he responded by shooting the victim, who then died immediately at the spot.
Stephens returned to his vehicle, claiming he was going to find new targets.
The suspect also posted a message on his Facebook account about his ex-girlfriend, Joy Lane, saying "three years I spent with this bitch ? I wish we never met."
Authorities have not offered more details of the incident for the moment but they have warned locals that the suspect is "armed and dangerous" and that they should remain inside their houses.